ProVue Development on Thursday took the wraps off Panorama Sheets, its new spreadsheet and database app for Mac OS X.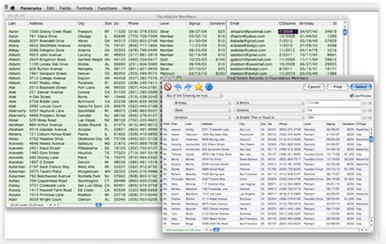 The app—available both from ProVue's Website and the Mac App Store—enables you to sort, store, browse, and analyze data, all with a spreadsheet-style interface. ProVue says that Panorama Sheets stores all your data in RAM, which means everything the app does should be blazingly fast. The app also provides live results as you type, instantly updating previews in realtime as you manipulate your data.
You can import and export text files and spreadsheets, and you can print your datasets in tables, or using standard Avery mailing label templates.
Data aficionados should enjoy Panorama Sheets's ability to bend, reshape, refactor, merge, and split data very quickly. And thanks to the app's Total Recall technology, ProVue says your data is safe even in the event of a system crash or power failure.
Panorama Sheets costs $40, and requires Mac OS X 10.4 or later with an Intel or PowerPC processor when purchased directly from ProVue; when purchased from the Mac App Store, it requires Mac OS X 10.6.6 and an Intel processor.