Editor's note: Macworld.com and Macworld magazine are run by Mac Publishing, which does not run the Macworld trade show. The company that runs the Macworld trade show is IDG World Expo, a separate company that shares the Macworld brand name with Mac Publishing and shares the same corporate parent, IDG (International Data Group).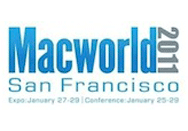 If the can't-miss story of Macworld Expo 2010 was about Apple's first-time absence from the annual trade show, the theme of Macworld 2011 might be this: Apple presence at the show doesn't matter so much anymore. The community of fans who love their MacBooks and iPads is big enough (as is the community of vendors who want to sell them software and peripherals) that the event can stand on its own.
Paul Kent, general manager of this week's Macworld 2011 (the "Expo" in the name has been dropped) in San Francisco, says his staff expects to host around 250 vendors who will be pitching their wares to an expected "solid increase" in attendance over last year's 21,000 people. The conference programs start on January 26, while the expo/show floor opens on January 27. Macworld ends on January 29.
"The first thing that was learned was that we re-established that attendees really like Macworld," Kent said of last year's Apple-less expo. "This year, we're looking at ending up close to where we were the last year Apple participated in 2009."
Outside analysts say the annual Macworld gathering might have lost a little heat without, say, Steve Jobs on hand to show off a cool new gadget. But there's still plenty to look forward to. Macworld 2011 attendees can even show their enthusiasm for the show by contributing pictures to the Macworld 2011 Flickr group.
"I think the fact you won't see any new [Apple] hardware will have an effect on what consumers show up, or the media, or things like that," said Ben Bajarin, director of consumer technology practice at Creative Strategies, a tech-consulting firm. But "there are two sides to it. There's obviously still a vibrant Mac community, and this show is a good thing for members of the Mac community."
Molly K. Reed, vice president of operations for The Omni Group, a developer of Mac apps and a longtime show exhibitor, said Apple brought a big spotlight to Macworld. Now there's room in that spotlight.
"With Apple, there were big announcements that got people really excited about the platform," she said. "Of course we miss having that, but without Apple, it's a real opportunity to showcase third-party developers and what they're doing on the platform. When Apple's [at Macworld], they get all the attention, which is tough for a little developer like us to deal with."
Jean MacDonald, a spokeswoman for Smile Software, agreed. Her company exhibited at Macworld for six years before sitting out last year's expo. Smile is back this year.
"It releases a lot of energy for other, smaller companies to get the attention of show visitors," she said. "We meet our best customers and contacts at Macworld every year. We get to show off products in person, which gives a chance to get feedback from customers…We're part of the Mac community, and we want to support it."
It's not as though there won't be plenty of cool products, as well as indicators about the direction of the Apple universe. Kent said two-thirds of this year's vendors are pitching products aimed at the company's mobile devices—the iPhone, iPad, and iPod touch. Thirty-seven percent of the vendors are at Macworld for the first time. That means lots of entrepreneurs see Apple as a vibrant business to associate with, and should mean a plethora of new products focused on Apple products, even if the company itself is absent.
The ratio of vendors focused on iOS products comes as no surprise to Ezra Gottheil, an analyst with Technology Business Research. He expects to see lots more iPad cases and keyboards come out of the expo.
"Clearly, it seems the iPad spawns peripherals at an enormous rate. I expect there to be more and different and more interesting ways to hold, store, etcetera, iPads," Gottheil said. "It looks like people like to buy their iPad accessories."
There are also the programs that run on those devices. "I always find it valuable to see what new software is out there," Bajarin said. "I see a lot of emphasis now on the software side of things."
Kent added that the Mac App Store might be too new to have a significant presence at this year's show. There should be plenty of developers and programmers on hand, however.
"One of the interesting dynamics of the show is that you get to come and get a demonstration of the software product. In the Mac market, great programmers are rock stars," Kent said.
If all that's not enough, there is still a vibrant community of Apple fans who use the show as a place to meet, talk shop, and have fun. This year's convention includes feature presentations from the comedian Sinbad, composer-cellist Zoë Keating, and Dream Theater keyboardist Jordan Rudess. The iFixit crew will be on hand to show off the insides of Apple products, and there will be additional talks about the connection between science fiction and modern hardware interfaces, as well as the role of women in technology.
Macworld.com will also host the Macworld Live stage, with convention attendees providing a live audience for roundtables and discussions anchored by the magazine's editors and writers.
It's those events—and the fact that they're open to the public, instead of just industry insiders—that keep Macworld relevant in the post-Apple age.
"There are so few technology trade shows the average consumer can go to if they want to," said Michael Gartenberg, an analyst with Altimeter Group. "If I'm interested in consumer electronics and want to go to CES, I can't. Macworld is one of the last end-user conferences. I can go to the conference, I can go to the sessions, so I don't have to be the member of the industry, an analyst, or a blogger."
Macworld 2011 is being held at the Moscone West convenion center and is open to the public. Registration is required, and prices start at $25 (online) for an Expo Only pass.