The Verizon iPhone will have to wait for another day, but there was plenty of other smartphone news to come out of the International Consumer Electronics Show in Las Vegas this week. Here's a round-up of the smartphone announcements that caught the attention of PCWorld's staff as they roamed the show floor. You can get full reports on PCWorld's CES page.
Motorola Droid Bionic
Motorola rolled out the first LTE 4G phone at CES this week. The landmark device, called the Motorola Droid Bionic, will run on Verizon's new LTE network, which is turned on in 39 cities now and will spread rapidly during 2011. The phone, the Droid Bionic, is a largish black Android-powered smartphone that sports dual processors and a beautiful 4.3 inch HD display.
Of course, the key feature that makes all the others run faster and look better is the 4G LTE radio built into the device. Verizon says its new LTE network can pump out download speeds of between 5 and 12 mbps, and upload speeds of between 2 and 5 mbps. This will make video run smoothly, files upload quickly, and videoconferencing and online gaming run reasonably well.
The peer-to-peer gaming apps and HD video apps in particular looked stunning on the Bionic's screen during my brief hands-on at the Motorola press event Wednesday. Both gaming and video looked bright, right in color and depth. These apps were running with the phone connected to a Wi-Fi network, so it remains to be seen how these apps will work in the wild when the phone is connected on Verizon's 4G network. The Skype videoconferencing app also worked well on Wi-Fi, and features a small window the screen showing what the person on the other end is seeing.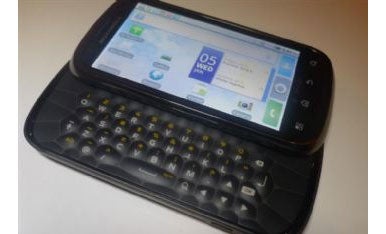 Also impressive: The Bionic has an HDMI out on the side, which enables the user to connect the device to their HD televisions to view all the HD content happening on the phone, like video, gaming or video conferencing in full 1080p.
Other key features of the Bionic include:
512 MB RAM
Adobe Flash Player and HTML5 support
Front-facing VGA camera and See What I See video feature
Rear-facing 8-megapixel camera for still and video
The Bionic becomes available in early second quarter from Verizon, and not pricing has been set as of yet.—Mark Sullivan
HTC Inspire 4G
Truth be told, AT&T doesn't currently have the most exciting Android lineup. All that is going to change this year, however, with the launch of the HTC Inspire 4G, one of many 4G phones coming to the carrier. The HTC Inspire 4G sports a 4.3-inch display and the latest version of HTC Sense user interface.
Reminiscent of the EVO 4G (on Sprint) in design and specs, the unibody Inspire runs on a 1GHz Snapdragon processor, sports an 8-megapixel camera, has 4GB of internal storage, and runs Android 2.2. Hopefully, AT&T will update the Inspire 4G to 2.3 soon after launch.
Pricing and availability have not yet been announced for the Inspire.—Ginny Mies
Motorola Atrix
Motorola showed off a new Android phone that connects to a docking station that looks like a laptop but has no CPU, so that users can access a full physical keyboard and monitor.
The Atrix 4G runs a 1 GHz dual-core processor, matching the power of full-size PCs from just a few years past. The phone hooks to the dock using an app called Motorola Webtop. The docking device weighs just over 2 pounds and has long battery life, said Sanjay Jha, CEO of Motorola Mobility. He unveiled the device at the AT&T Developers Summit at CES in Las Vegas.
Users will be able to browse the Internet on the full version of Mozilla Firefox. "This is not desktop-like. This is the desktop browser running on this," said Jha.
He did not disclose many more details about the dock. Presumably users will be limited to the applications that can run on the Android phone. The concept of pairing a mobile phone with a "dumb" device that features a larger keyboard and monitor is similar to one called the Foleo that Palm once announced but later killed.
Users of the Atrix will also be able to connect the phone into a different dock that will allow streaming to an HDTV or any HDMI-compatible monitor.
Jha did not say how much the Atrix or the docks would cost or when they would be available.—Nancy Gohring
Samsung Infuse 4G
How big can a smartphone's display get before it becomes a tablet? AT&T and Samsung are pushing the limit with the Samsung Infuse 4G, a smartphone running on AT&T's HSPA+ network with a 4.5-inch display.
Like other Samsung smartphones, the Infuse 4G sports the company's Super AMOLED technology, a super-thin display which produces gorgeous colors and high visibility indoors and out. I'm a big fan of Super AMOLED and was disappointed when the Samsung Galaxy Tabdidn't use it. I'm definitely excited to see it in a larger format.
The Infuse 4G is powered by the older Android 2.2 and runs on a 1.2GHz processor. Other enticing specs include an 8-megapixel camera with HD video recording, and a front-facing 1.3-megapixel camera for video calls.
AT&T did not announce availability or pricing.—GM
HTC Thunderbolt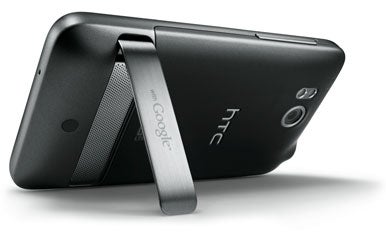 Probably the worst-kept secret phone of CES, the HTC Thunderbolt is finally official on Verizon's 4G LTE network. According to Peter Chou, CEO of HTC, this smartphone is incredibly fast.
Similar to the HTC EVO 4G, the monstrous Thunderbolt sports a 4.3-inch Super LCD display and a front-facing video camera. We're guessing that it also has an 8-megapixel camera, but that has yet to be confirmed. Running on the new version of HTC Sense (which has a cloud-based online component). 8-megapixel camera. The Thunderbolt also incorporates Skype video chat into the HTC Sense interface.
Pricing and availability have not yet been announced and we're still a bit fuzzy on the specs.—GM
LG Optimus Black
Insurgent smartphone maker LG says its LG Optimus Black Android smartphone is the thinnest in the world. The phone's width measures about 0.36 inches thick, then tapers down to 0.24 inches, which LG says qualifies it as the world's thinnest phone.
The company says the new phone's 4-inch screen uses a new display technology called NOVA, which it says takes up less space in the phone's design and provides a brighter, clearer interface for the user.
"LG Optimus Black provides users with an easier and more natural experience when browsing the web, reading emails, or writing documents with higher levels of brightness and pure white tones that deliver true black and white colors for ideal handset viewing," LG says in a statement released Wednesday morning. The whiter whites and blacker blacks will help users see the display more clearly indoors or outdoors, and even under bright sunlight, LG says.
LG also says the NOVA display uses far less power (during indoor use) than regular LCD and AMOLED displays. If true, this could have a dramatic positive effect on the battery life of the Optimus Black (the phone uses a 1500 mAh battery), and of phones that use NOVA displays in the future.
Another feature we will take a "wait and see" attitude toward is the new phone's use of the Optimus UI 2.0 interface overlay. This piece of LG software sits on top of Android and "lets users directly access messages, e-mails and missed calls from the locked screen with just one single finger tap." On other phones we've seen, such overlays have merely create UI clutter and gotten in the way of Android's simplicity.
The Optimus Black will ship with Android 2.2 (Froyo), but, LG says the phone can be easily upgraded to the more recent Android 2.3 (Gingerbread) OS version. LG says the new phone's interface lets users lift, shake or tap to do such things as take calls, enter camera mode or play music.
Notably the Optimus Black ships with a large 2 megapixel front-facing camera. LG says the large camera was included to maximize the expanded video conferencing functionality in Android 2.3.
LG says the Optimus Black will begin selling through an as-yet-unnamed carrier in the first half of 2011.—MS
LG Optimus 2X
Nvidia has teamed up with LG to demo the very first Tegra 2-powered phone. This LG Android phone supports 1080p HD video and offers console-quality gaming.
NVIDIA's co-founder Jen-Hsun Huang called the Tegra 2 a "mobile super chip" in part because it enables powerful multitasking and is designed for content consumption. This LG phone is designed for watching video and gaming in-hand with its textured, curved design. The 4-inch display is constructed with curved glass for multi-angle viewing. Angry Birds demoed on the phone looked brilliant and the videos shown appeared smooth and crystal-clear.
The LG "Super Phone," as NVIDIA dubbed it, has HDMI-out so you can watch videos from your phone on your HDTV. In the on-stage demo, video looked pretty good though it is difficult to evaluate its quality from a press conference demo.—GM
Motorola Cliq 2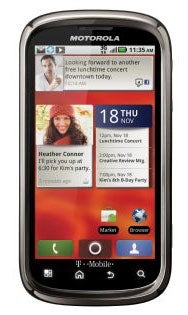 When the Cliq came out way back in fall of 2009, I was pretty impressed with it. It was the third Android phone to debut in the United States and the first from Motorola. What I liked best about it, though, was how much though Motorola put into its design. The Cliq 2, debuting on January 19, makes the first Cliq feel like a child's toy.
Design-wise, the Cliq 2 is sturdier with a more sophisticated look. It is less plasticky than the original and feels very nice in hand. I loved the original Cliq's keyboard with the dome-shaped keys and the Cliq 2 definitely improves upon this concept. The Cliq 2's keyboard sort of resembles a honeycomb; in fact, a product manager told me its design is inspired by nature. Rather than individual keys with space in between them, the keyboard is one solid piece. It it sort of hard to explain, but perhaps you can see what I mean from the pictures. I was able to quickly bang out a long message with no trouble at all.
The new MotoBlur interface running over Android 2.2 is interesting. The multiple profiles for work, home and play sort of remind me of another phone on T-Mobile, the HTC-designed myTouch 4G. It is definitely nothing like the gaudy, annoying MotoBlur interface with the text bubbles we saw on the original Cliq.
Performance was hard to judge. We weren't picking up a 4G signal when I got my hands on it and I think my unit was low on batteries. It seemed pretty responsive though; the combination of a 1GHz processor, Android 2.2 and HSPA+ is a killer combination.
The lighting in the CES press room was horrid so the photos I took with the Cliq 2's 5-megapixel camera looked pretty fuzzy. Pricing has not been announced for the Motorola Cliq 2, but it will be available from T-Mobile January 19.—GM
Nancy Gohring of IDG News Service contributed to this report.