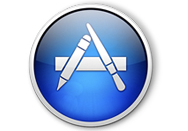 The Mac App Store is the biggest thing to happen to Mac software distribution since the Internet itself—some might say that the store is even bigger. Many users haven't bothered with boxes and CDs of software for some time, instead juggling combinations of ZIP files, Mac disc images (DMGs), drag-and-drop operations, and installation wizards.
The potential of the Mac App Store to simplify so much of the app ownership process is undeniably appetizing for end users. But for software developers, the story is a bit more complex. Macworld talked to several developers to get their thoughts on the Mac App Store.
In the big picture, the developers we spoke with are just as intrigued by the Mac App Store as Mac users. "The Mac App Store is fantastic," Andrew Sinkov, Evernote's VP of Marketing, told Macworld. "I like that it brings easy browsing and buying to the masses," said Isaiah Carew, founder of YourHead Software. There is an early sense of excitement that Apple is using what it learned from the iOS App Store to bring a fresh new round of attention to the established Mac platform.
"It's a really helpful addition to the Mac Platform," said Philip Goward, founder of Smile. "It enables software products to be more discoverable, and more easily purchased and installed by Mac users."
The transition
Selling Mac software in the new world with a Mac App Store poses a number of unique challenges. An App Store for the fledgling smartphone market is one thing, but the Mac and its users are no strangers to third-party software. Is Apple's new store too large to ignore? Is there a market outside of the Mac App Store, or even completely independent of it? What about Apple's decidedly constricting policies? These are only some of the big questions developers have been wrangling with since Apple announced the Mac App Store in October last year, and some of these questions will only be answered with time.
One of the biggest questions is that of price. The App Store created a "race to the bottom" for $1 iOS apps—will the Mac App Store have the same effect? The developers we spoke with were mostly united in optimism.
"The Mac App Store doesn't change the value of our apps to our customers," said Ken Case, CEO of The Omni Group. "So our prices are exactly the same as they were before." Less technically complex iOS apps may do well with bargain-bin, volume-friendly prices, but many Mac apps are a different beast, requiring much more development time and customer service efforts. "We have chosen the price tiers [for the Mac App Store] that were closest to our existing prices for now," said Peter Maurer, "Creative Madman" at Many Tricks.
To be sure, there are plenty of free utilities, single-serving apps, and affordable, casual games already in the store. Examples like Caffeine, iRingtones, and the inescapable Angry Birds come to mind.
But other companies known for making prosumer apps, such as Realmac Software, have taken a different approach. The company made Courier, a stylish utility for sharing media on social networking services that debuted in August for $20, exclusive to the Mac App Store for a new, permanent price of $5. LittleSnapper, Realmac's more powerful "designer's scrapbook," dropped from $40 to a new, non-discounted price of $25. But RapidWeaver, Realmac's popular and powerful WYSIWYG Web design utility, is on sale for $40 right now, with an eventual regular price of $80 to return at a future date.
Plus, now that Apple announced the store hit the one million downloads milestone in 24 hours, a glance at the charts suggests that paid apps with rich functionality can indeed maintain their place in the ecosystem. As of this writing, apps like Pages ($20), RapidWeaver ($40 on discount, $80 regular price), and Things ($50) are all in the top 10.
Some established developers are diving head-first into the Mac App Store, including Pixelmator and Sophiestication. You can still download a demo of Pixelmator from the company's site, but the only way to buy the $60 photo editor now is through the Mac App Store. To help existing customers make the transition, the company is offering its app for only $30 and promised that Pixelmator 2 will be a free upgrade. So far, Saulius Dailide, co-founder of Pixelmator, told Macworld that "results have been outstanding."
Sophiestication, on the other hand, has made CoverSutra, its menu-bar-based iTunes controller, exclusive to the Mac App Store. The utility used to sell for $15, but its new price in the store is just $5, and you can't even download it from the company's Website anymore.
On pricing and major upgrades
On the other side of the coin, though, Mac App Store pricing is a point of contention among developers. For starters, Apple offers no way to transition existing licenses, so you essentially have to re-purchase apps you already own (yes, even if they appear as "Installed") if you want Mac App Store convenience like multi-Mac licensing, easy re-downloading, no license keys to keep track of, and easy updates—which are another potential problem down the road that I'll get to in a minute. The only exception here so far seems to be that the Mac App Store is allowing some free apps, such as Bare Bones's TextWrangler, to update previous versions with the new version the company released for the store's opening. But aside from that edge case, Apple offers no official system to transition existing customers, so developers are offering a blind concession for a limited time to all customers (new and existing) of aforementioned discount prices on new licenses, sometimes up to 50 percent off.
Beyond the initial introduction of the Mac App Store, major upgrades down the road pose another problem in light of Apple's current policies. Like the iOS App Store, the Mac App Store does not offer developers an easy way to charge for major upgrades—a traditional practice for the third-party software industry and even Apple itself. While developers have typically charged small fees for major app updates, Apple has typically sold new versions of its software such as Mac OS X, iLife, and Aperture "as is," with no upgrade discounts offered if you own the previous version.
One possibility for developers may be to release major upgrades as new apps, as Loren Brichter famously did by releasing Tweetie 2 for iPhone as a completely separate app from the original. But this method is untested in the Mac App Store, largely because it's only existed publicly for about 36 hours. Plus, for some strange reason, people seem to be fine with paying full price for game sequels, but not major new versions of general purpose apps and utilities. Most non-game apps in the App Store besides Tweetie 2 have been released as completely free upgrades to their predecessors, even if they were acquired for only $1 two years ago.
"Once we'll be faced with doing a major update on the Mac App Store for the first time," Maurer explained, "we might reconsider [our price structure], depending on whether Apple continues to ignore the concept of update pricing."
The new Mac sandbox
The Mac App Store's doors are open to a wide variety of applications, but closed to plenty of others. Things like System Preferences panes and plugins are categorically disallowed by Apple's current policies, while other typical developer tricks like kernel extensions, root permissions, and using private APIs are red flags for rejection. This means that popular utilities like Growl, audio apps like WireTap Anywhere and Radioshift, just about any backup utility, and plenty of others won't make it onto the Mac App Store's shelves unless Apple makes significant changes to its rules.
Some developers are essentially unwelcome in the store because of the nature of their wholly legitimate apps. "The store prohibits nearly all of the software we make for multiple reasons," Paul Kafasis, CEO of Rogue Amoeba, told Macworld. "So for the moment, we're waiting to see how things go."
Paul Kim of Noodlesoft, maker of Hazel, is in a similar situation and posted some thoughts for customers in his company's forums. This is a reality for many developers which, of course, begs the topic of life after—and in particular: completely away from—the Mac App Store.
"I think that, over time, the only Mac apps that won't be sold via the Mac App Store will be ones that aren't approved by Apple," said Nik Fletcher, Realmac Software's Head of Support and QA. Goward, Carew, and other developers concurred, all expressing similar sentiments that the Mac App Store will inevitably be a significant source of apps for most users, but not the only Apple-approved source like the iOS App Store is for the iPhone, iPod touch, and iPad.
Duality
Setting aside the problems and questions that have become integral to any discussion these days involving the words "Apple," "App," and "Store," the developers Macworld spoke with are welcoming the Mac App Store to the marketplace, at least from a user perspective. It is obviously raising the awareness for apps on the Mac, and the market will undoubtedly get even more attention once the store comes pre-installed in Mac OS X 10.7 Lion and on all new Macs.
Some developers will commit entirely to the App Store way of doing things like Pixelmator and Sophiestication have. However, "I think there's still a place for direct relationships between vendors and customers when people want more flexible terms and options," Case explained. The overall sentiment seems to be that the developers who can use the App Store as a new distribution channel, will. But also selling apps outside the store allows developers to offer customers things like app bundles, volume pricing that Apple so far doesn't want to deal with, and other advantages that we've enjoyed throughout pre-App-Storic history.
For now, though, Peter Maurer sees eye-opening potential, as the sun rises for the Mac App Store over the next few months, perhaps even years. "A lot of people probably didn't even realize there was a huge Mac software market before this."