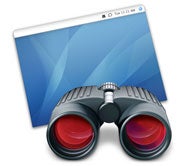 It was easy to overlook amid the Mac App Store launch and the Mac OS X 10.6.6 update that accompanied the store, but Apple also posted updates for its remote desktop management software Thursday. In addition to the client and admin updates for Apple Remote Desktop, the company introduced a new dashboard widget that provides an at-a-glance view of remote computers.
Both the admin and client versions of Apple Remote Desktop 3.4 are pretty straightforward updates. According to their respective release notes, they provide compatibility with the Mac App Store.
The Apple Remote Desktop Dashboard Widget works with the Apple Remote Desktop software to provide quick information about computers in a given network. The widget is integrated with the administrative application, Apple says, which allows users to work with any computer in the system with a simple click.
The 1.54MB widget requires a licensed copy of Apple Remote Desktop. It runs on Mac OS X 10.4.11 or later.