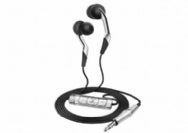 No surprise: the International Consumer Electronics Show continues to be an Apple-loving audiophile's dream.
Sennheiser announced its CX 980i earbuds. (The "i" indicates it was crafted for iPhone use.) Like the iPhone's native earbuds, Sennheiser's new product includes a small microphone-and-control unit integrated into the cable, which allows a user to control their iPhone or iPod touch with voice or push-button commands. The CX 980i will be available through Sennheiser, Apple's online store, and in brick-and-mortar Apple Stores. There's no pricing information on the CX 980i from Sennheiser yet. (Sennheiser also announced another product Friday, its MM 550 Bluetooth-enabled headphones.)
If you want to make sure that your headphones aren't destroying your eardrums, though, dB Logic this week announced two new earphone accessories to "ensure healthy listening." The new $50 SPL Meter lets users hold their earphones up to monitor and get a detailed reading of how loud their music is playing. The $20 SPL2 Adapter plugs into an MP3 player's headphone jack and places a top limit on how loudly music can be outputted to a user's earbuds. Both products should be available this month at the company's Web site.