At CES this week, Samsung announced the SH100, a compact Wi-Fi-enabled camera that lets you wirelessly share and back up your photos.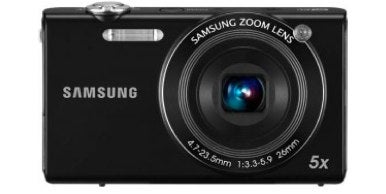 Set to be Samsung's leading fully connected camera in 2011, the SH100 has a 3-inch LCD display, 14.2-megapixel CCD sensor, 5x optical zoom, face recognition, touchscreen controls, and lets you connect to other devices with ease. For instance, if you have a compatible smart phone, you could use it to remotely control the SH100's zoom and shutter, viewing the the shot you're about to take in real time—an excellent feature for group shots and self portraits. The SH100 can also use your phone's GPS to add the location of the shot to its metadata.
You can use the SH100's built-in Wi-Fi to automatically back up shots to your computer; instantly upload your pictures to social networking sites like Facebook, Picasa, or Photobucket; or e-mail them directly to individuals. The SH100 can also take 720p HD video, which it can upload straight to YouTube. To make it easier to upload photos and videos from different locations, the SH100 includes an account with mobile hotspot provider Boingo, which gives you access to over 200,000 Wi-Fi hotspots worldwide.
The SH100 will be available in March for $200.
Samsung SH100 14 Megapixel WiFi Digital Camera