MacBook and MacBook Pro owners looking for extra juice on long-haul trips away from the convenience of electrical outlets have two new options from Sanho, makers of the HyperMac series of Apple accessories.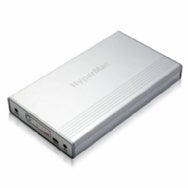 At this week's International Consumer Electronics Show, Sanho unveiled new additions to its HyperJuice lineup of external Mac batteries. First is a 12-15-volt car adapter that connects a HyperJuice external battery to Apple's MagSafe Airline Adapter. While this device will let users power their computers, Sanho says it won't recharge the MacBook's own battery.
The second option from Sanho is a do-it-yourself modification kit, which lets users add two connectors—one female, one male—to their MacBook's power adapter. By doing so, you can continue to use the device normally or switch to a HyperJuice external battery if you choose. No soldering or "complex" rewiring is needed for the modification, the company said.
The new HyperJuice external MacBook batteries—including both the modification kit and car charger—will be available later in January, for prices ranging from $100 for just the car charger to $500 for the modification kit, car charger, and 222-watt-hour battery.