In the midst of the CES trade show this week, Iomega announced two products that the company hopes will rise above the din on the crowded Las Vegas show floor. On Thursday, the digital storage and content management manufacturer announced the release of two new products: the SuperHero Backup and Charger and the Iomega TV with Boxee.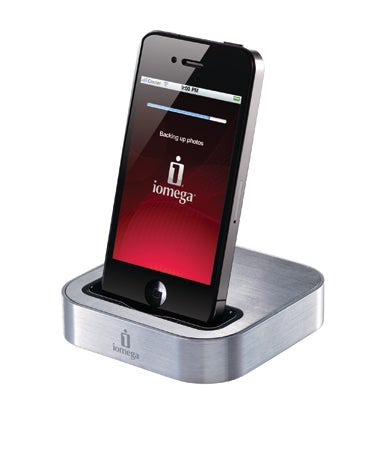 If you've ever lost contact info or photos from iOS devices in the past, you'll appreciate Iomega's SuperHero Backup and Charger. The $70 device is a charging dock that also conveniently automatically backs up contacts and pictures. The device comes with a 4GB SD card (upgradeable if you're using the SuperHero for multiple devices and need a greater capacity of space).
After downloading Iomega's free app, whenever an iPhone or iPod is docked, it launches automatically, backing up whatever photo or contact content has been added since your last charge. Should a phone be lost or accidentally wiped clean, tapping the dock's Restore button will reload all previously stored data.
Unfortunately, the backup is not a complete one, à la Time Machine—music, videos, and calendar information are not included in the backup. Iomega's press release claims that third and fourth generation iPod touch and iPhones 4, 3GS, and 3G are all SuperHero-compatible.
Iomega also announced a new upcoming digital entertainment product, the Iomega TV with Boxee. Boxee, a device that streams Internet to your television, interacts with the Iomega product to also bring personal media to your TV, transforming it into a multimedia center.
Iomega TV with Boxee uses EMC's Lifeline operating system to provide users with access to any Mac, Linux, and Windows home device. Users reportedly will be able to use the Iomega TV with Boxee to play, store, and share content through use of social networking sites and applications like Pandora, Crackle, and Twitter.
Iomega confirms that in February, two versions of the product will be released. The Iomega TV with Boxee ($230) has no integrated hard drive, while the TV with Boxee and Storage comes with 1TB ($300) or 2TB ($350) of onboard storage. Both models are WiFi ready and have two USB ports.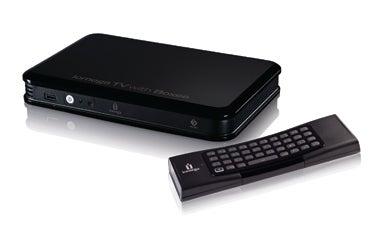 Internet-streaming TV boxes are in no short supply; Apple TV, Western Digital's TV Live, and last autumn's D-Link Boxee Box all offer television program and movie streaming right to your living room. At first glance, the Iomega TV with Boxee doesn't appear to offer competitive pricing or unique applications, but stands out because it is one of the few media centers on the market to offer onboard storage.
TV with Boxee (streaming only)
Iomega TV with Boxee and Storage (1TB)
Iomega TV with Boxee and Storage (2TB)