Editor's Note: The following review is adapted from Five Star Apps: The Best iPhone and iPad Apps for Work and Play by Glenn Fleishman. (2010, Pearson Education and Peachpit Press).
ooTunes Radio from Oogli is a conduit to the vast number of streaming radio stations available worldwide. The $5 app, which supports iOS 4 background audio, provides a number of discovery tools to browse and find stations that match your interest. The interface is overcomplicated at times, and the developers have thrown in the kitchen sink. Nonetheless, persevere and you can find nearly every kind of access to regularly available streaming audio.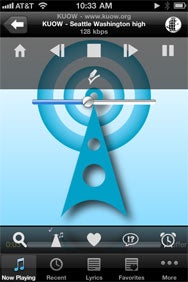 The built-in list of stations includes both broadcast radio stations that have streaming feeds and Internet-only radio stations. The bit rate is shown alongside stations; that's the amount of data that's sent, with a lower number working better over slower connections and consuming less bandwidth. Stations you like can be marked as favorites to find more easily the next time you launch the program.
The program also lets you plug in account information for the streaming Internet versions of Sirius Radio and XM Radio, and live365 VIP (an ad-free paid version of that service). ooTunes has an alarm clock option to let you wake up to a station of your choosing. You can play Radio "RooLette" to have random songs plucked out and played for you—which, depending on the eclecticism of what you listen to, could be soothing or knock you out of your pajama bottoms.
[Glenn Fleishman is a frequent contributor to Macworld.]