If you use GarageBand often, you'll notice that the application offers a number of useful project templates to help you start recording quickly.
The Songwriting template, for example, loads a vocal track, an acoustic guitar, piano, muted bass, and a drumset into your project. The Electric Guitar template loads a single guitar and the Clean Combo guitar amp with a couple of stompbox effects set up and ready to play. That's a great start, but it isn't exactly the set of instruments and presets that I use to write my songs.
To avoid tweaking the presets each time I launch GarageBand, I create my own templates. You can too. Here's how.
Step One: Launch GarageBand '11 and select New Project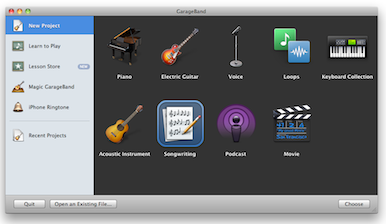 In the New Project window, select the Songwriting project template and click the Choose button in the lower right-hand corner.
Step Two: Name and create your new template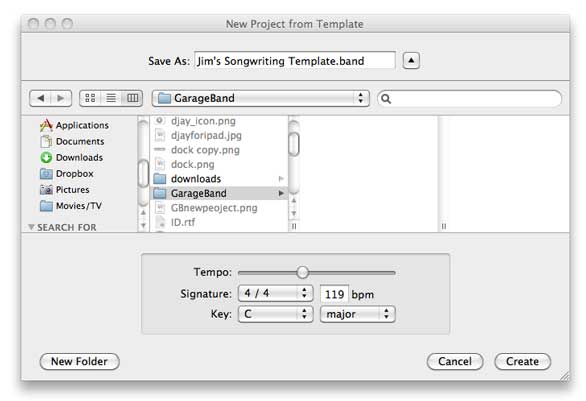 GarageBand will ask you to give this new project a name. Type in whatever you like, change any tempo or song preference you might need, and click the Create button.
Step Three: Customize your instrument tracks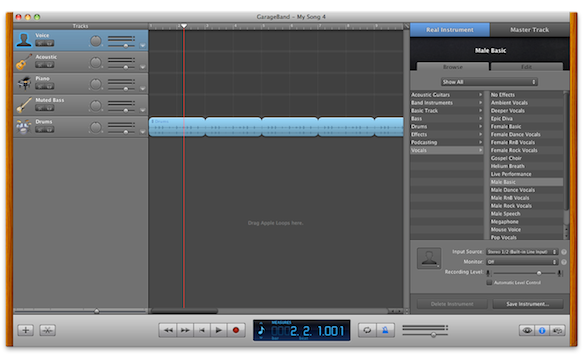 GarageBand will load your project with five preconfigured tracks. Track 1 is Voice. Click on the track and you'll see the right-hand column shows the blue Real Instrument window with the Browse tab open and Voice selected (software instruments are in green). You can pick any of these vocal presets, like Live Performance, Male Rock Vocals, or Megaphone, and you'll see the name of the track change to match that preset. (If, for some reason, you don't see this column, simply click the Info button at the bottom-right of the GarageBand window, and the column will appear.)
Repeat this step with all of the tracks until your personal toolbox is loaded. If you don't need all five tracks, you can remove any ones you want. Just select the unwanted track and press the Command-Delete (Backspace) keys on your Mac's keyboard (or from GarageBand's main menu, choose Track -> Delete Track).
Step Four: Save your template

Once you have everything set up, go ahead and save your template. Locate the template file you created and drag it to your Dock.
The next time you want to use your template, instead of clicking on the GarageBand icon in the Dock, you can click your template icon instead. GarageBand will launch and your template—configured as you set it up—will open.
Be sure to promptly choose Save As from the File menu to avoid making accidental changes to your template as you work on your piece.