We told you about a few of the things that piqued our interest during our first day at CES. After a couple more days wandering the vast expanses of the Las Vegas Convention Center, I have to say: The media may claim that tablets are the hot items at the show, but I couldn't throw my press badge without hitting an iPhone battery case or an iPad keyboard (including the Clamcase, which we got an exclusive look at yesterday). Still, we came across scads of interesting products for users of Apple's various gadgets. Here's our second installment of things that were unique or especially interesting.
Canopy's Kapok iPhone/camera case
Canopy's Kapok is an iPhone 4 case for budding iPhone photographers and videographers. The case—which is a bit bulkier than your typical iPhone 4 case—connects to the phone's dock-connector port and provides two physical control buttons on one side. When using Canopy's free camera app, one of the button provides a physical shutter button, and the other lets you change settings, giving the iPhone more of the feel of a point-and-shoot camera. (Canopy is also making available, for free, a development kit to allow other developers to create software that takes advantage of the Kapok's hardware.) The Kapok also includes a standard threaded tripod mount.
iPhone docks with Pico projectors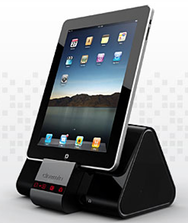 Multiple companies were showing off iPod/iPhone speaker docks with a built-in DLP pico projector. Optoma's Neo-i sports an iPod dock, a 16-Watt speaker system, and HDMI, VGA, and other video input; it can project a 120-inch image in a dark room. Pricing and availability were not available. WowWee's $430 Cinemin Slide, available by the end of January, sports an iPad-compatible dock cradle, multiple AV inputs (including Mini-HDMI and VGA), and a 6-Watt speaker system; it can project a 60-inch image in a dim room.
Moshi's Mac gadgets
Mac-focused accessory vendor Moshi was showing a slew of new products. One that caught my eye was an updated version of the iVisor Pro for MacBooks, my current favorite MacBook screen protector and anti-glare cover. The new model uses reusable silicone adhesive, letting you remove and apply it the cover as many times as you like. We also liked the company's $25 Mini DisplayPort cable, which lets you connect—directly, without requiring any adapters—any recent Mac with a Mini DisplayPort video output to any iMac that supports video input via its Mini DisplayPort jack. And as a fan of both the 11-inch MacBook Air and Moshi's ClearGuard keyboard protector, I was happy to see that the company is releasing a version of the ClearGuard made specifically for the 11-inch Air's keyboard.
Focal XS Book speakers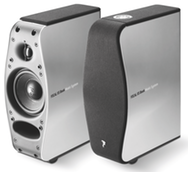 One of the better speaker systems we've tested, for computers or iPods, is Focal's Focal XS. Focal was showing off its next computer-focused product, the XS Book, a $299 high-end speaker system designed for desktop use. Available in March, the XS Book features relatively large (for computer speakers) left-and-right speakers with 20 Watts of power per channel and an internal power supply—no bulky power brick here. Thanks the larger enclosures, the Focal XS Book should be able to provide much better low-end performance than most 2.0 computer-speaker systems. The demo system we saw was iMac-matching aluminum and black, but Focal told us the XS Book will be available in a number of different finishes.
Quirky accessories from Quirky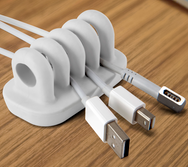 Quirky, maker of crowd-influenced gadgets and gear, was showing off a number of the company's unique products. Among my favorites was the $13 Cordies, a weighted base with five rubber-coated loops that keeps up to four cables from falling behind your desk when not connected. I also liked the $25 Split Stick, an 8GB thumb drive that splits that storage between two slide-out 4GB chips—one on each end. Quirky advertises the Split Stick as a way to keep your work and home documents separate, but Mac users may prefer to keep one end formatted for Windows and format the other using HFS+ for better compatibility when transferring files between Macs.
Sphero, the iPhone-controlled ball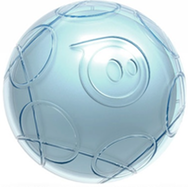 If an iPhone-controlled quadrocopter is a bit too much for you, how about an iPhone-controlled ball? The Sphero, available later this year, is a small (74mm across) robotic ball that pairs with your iPhone over Bluetooth and uses an iOS app to let you control the ball as it rolls around the room. An internal RGB LED can glow any of thousands of different colors, and the iPhone app can even "push" data to the ball, with the ball responding by turning different colors depending on the data. (The company's PR examples include color changes based on weather forecasts or stock performance.)
Scosche's iPhone mic and versatile dock cable
Accessory vendor Scosche teased the company's new FreedomMIC, a Bluetooth lavaliere-style microphone that can pair with your iPhone or iPod touch, providing a wireless mic for audio and video recording. The company said you'll even be able to control iPhone video-recording functions from the microphone—useful if, say, your iPhone is recording you from across the room.
The company was also showing an upcoming cable, the SyncAble Pro, that looks like a standard USB-dock-connector cable for an iPhone, iPod, or iPad, but the 30-pin dock-connector plug flips out of the way to expose a MicroUSB plug—perfect for charging your Bluetooth headset or syncing a smartphone that connects via MicroUSB.
Withings baby monitor
We've seen baby monitors you can listen to, or even watch, on your iPhone. But Withings' new Smart Baby Monitor takes "high-tech baby monitor" to the next level. The flip-up, 3MP camera is sleek and Apple-like; works in light and (via infrared) in the dark; can be motion-activated; and reports temperature and humidity. It also provides two-way communication—you can talk to your baby using the microphone on your iPhone or other computing device, and you can control the camera's music playback remotely. You can even configure alarms based on movement, noise level, and room conditions. You connect to the camera via WiFi, Bluetooth, or Ethernet, letting you access the camera from across the house or over the Internet.
dBlogic's hearing-saving tech
We briefly covered two of dB Logic's new products, but on Friday we saw the full line, several of which feature dB Logic's new headphone technology that limits sound-pressure levels (SPL) to approximately 85dB—a level widely considered to be the maximum safe level for extended listening. The company's $30 Earphones use an in-ear-canal design, while the $40 Headphones take an over-the-head approach with larger earpieces. The company is also offering a $20 inline limiter designed for use with Apple's earbuds (and other headphones with similar sensitivity). dB Logic claims that unlike competing products, which tend to use either extremely low sensitivity or a battery-powered volume limiter, the company's technology caps volume without distorting, altering frequency response, or reducing audio quality.
dB Logic will also be offering a $50 SPL meter that will let you test your own headphones for safe volume levels, as well as test your environment to see if the ambient noise level is loud enough to damage your hearing.