After my colleague Dan Frakes and I shared the interesting products we saw at the Digital Experience press event at the International Consumer Electronics Show, Dan followed up with some of the other standout gear he saw on the show floor. Now it's my turn to sound off.
DreamGear charger and cases
DreamGear showed off the i.Sound Portable Power Max, an external backup power supply with a whopping 16,000 mAh battery. Besides the huge capacity, the $140 charger has five USB ports to let you charge multiple iPods, iPhones, iPads, digital cameras, and other USB-powered devices at the same time. The built-in flashlight may be a bit of a gimmick, but I was pleasantly surprised by its light weight and attractive design. (There's also an 8000 mAh version for $90.)
Positive vibrations from the Marley family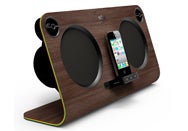 The House of Marley, a joint venture between the family of Bob Marley and HoMedics, teamed up to launch a series of earbuds, headphones, and iPod/iPhone docking speakers and boomboxes ranging from $30 to $500. Products are arranged in three price/quality tiers: Jammin' (good), Freedom (better), and Destiny (best).
All the products I saw were beautifully designed, such as the $249 Roots Rock speaker bag boombox and the $149 Stir It Up over-the-ear headphones with mic and three-button controller. As the person who showed me around the booth said, the higher-end products lines are "less rasta," but even those were nice to look at. Products should be available starting in the second quarter of 2011.
iPad holder
Another neat product I saw was the iProp from Aspire Innovation, a hands-free iPad stand for use around the house, studio, or office. The V-shaped base can slide under a couch, desk, or bed, and the three-foot arm (the top 24 inches of which are flexible) makes it easy to position the iPad wherever you want it. The holder attaches to the arm using a ball-and-socket connector, which means you have full rotation and tilt to get the angle just right. After playing with one for a few minutes sitting in an armchair in the company's booth, I could see how the iProp could be a cool add-on for musicians or just those who like to read their iPads in bed. The $80 iProp should be shipping in February.
Note: When you purchase something after clicking links in our articles, we may earn a small commission. Read our affiliate link policy for more details.