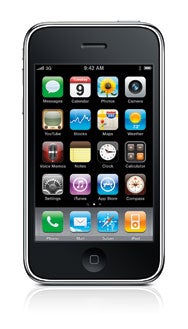 Last week, AT&T announced that it would drop the price of the iPhone 3GS from $99 to $49; on Monday, Apple matched the move. The 8GB iPhone 3GS is now available from Apple's online store (and, presumably, its brick-and-mortar retail stores) for half of its previous price.
As before, the $49 3GS price still requires customers to sign up for a two-year contract with AT&T. Apple says that existing customers will have to find out whether they can take advantage of the new price, though AT&T said previously that its $49 price would apply to upgrade-eligible customers.
This pricing shift comes as we wait for the other shoe to drop: Verizon is scheduled to hold a press conference on Tuesday morning, and the event is heavily rumored to feature the launch of an iPhone supporting that carrier's network.
AT&T, for its part, has a lot to gain by offering a low-cost iPhone, even if it is the 2009 model: it's more interested in getting customers to commit to a two-year contract, especially in the face of anticipated competition. As for Apple, no doubt it would prefer consumers cut out the middleman and buy the phone directly from them instead of AT&T.
I'd speculate that Apple gave a thumbs-up on AT&T's price-drop, and even allowed a window where the carrier would have the lower price to itself, especially to throw AT&T a bone in advance of a Verizon announcement. But in the longer term, Apple's not going to let AT&T have premium pricing all to itself. And the math is going to shift substantially if a Verizon iPhone does in fact appear on Tuesday.