Every once in a while, an app is just right. It doesn't try to do too much, but it's not a one-trick pony. Its interface is unremarkable, in the best way—it works, makes immediate sense, and requires no explanation. And its design perfectly fits the device.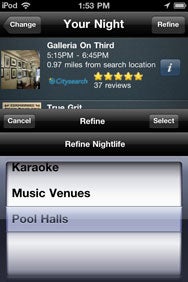 Movie Night Out is such an app, despite one relatively minor bug, which I'll discuss later. The setup is ingeniously simple, in that the free app from National Cinemedia helps you plan, well, a night out that includes three events centered around a movie. Your choices for the pre-flick activities include dinner, drinks, coffee, and visiting an art museum, among many others.
You then choose what type of movie you'd like to see, and at what time: A comedy? Drama? Indie?
Finally you select your nightcap, which could be, to provide just a few examples of what the app offers, catching an act at a comedy club, going to a karaoke bar, or even visiting a pool hall. Once you've made your choices, the app presents you with an itinerary.
But it's not set in stone. You can save sets of plans, if you want to, say, choose from several possibilities or want to make similar plans for different nights. You can "refine" plans, as well: if you want to go shopping after the movie, and Movie Night Out's shoe store selection doesn't appeal, you can choose another type of store.
The app also enables you to create an online account and save "must see" movies and itineraries. You can easily view one or all of your locations on a map and get directions. It also provides basic information about venues (address, phone number) within the app, and links to Citysearch for additional information, which often includes ratings and written reviews from Citysearch users.
Now for that minor bug: Several times when I tapped the Citysearch link, the app presented me with a blank page. Most of the time, however, this didn't happen. and it was the only hitch I ran into when using this otherwise solid app.
[Jeff Merron is a freelance writer and editor living in North Carolina.]