Over the years, 37signals has morphed its Backpack service from a personal Web-based scrapbook into a business-centric bulletin board that can replace e-mail, that calendar in the hallway, and endless sticky notes. To keep up with the evolution, InfiniteNIL has released Packrat 2, a major upgrade to its offline Backpack client.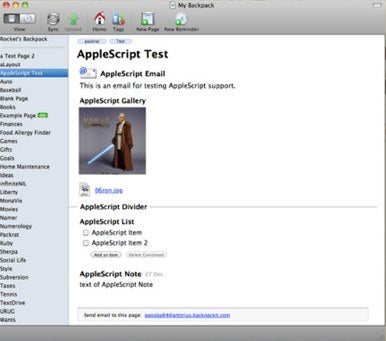 Packrat 2 integrates much better with Backpack, allowing you to edit and drag-and-drop page items inline, just like on the Backpack Website. Packrat now downloads file attachments and images, too, so you can view them alongside the rest of your content while offline.
The new version is also now document-based, in order to support multiple accounts. Packrat creates a new document for each account you add, allowing you to store them in different locations to fit your workflow. This is all in addition to the other advantages Packrat offers, such as Growl alerts for Backpack reminders, deleting all completed to-do items with one click, and, for the power users in the audience, support for AppleScript and Automator actions.
Packrat 2 is available for an introductory price of $20, and it requires the recently released Mac OS X 10.6.6—yes, the one which brought the Mac App Store. You can download a demo from InfiniteNIL's site, and buy it either straight from the company or in the Mac App Store.