One of the more addictive games available for the iOS, Flight Control HD is now available for the Mac by way of the Mac App Store and Valve's Steam service. While Flight Control HD has been garnering buzz for a while now, it's relatively new to the Mac platform—first coming to the Mac via Steam's digital download service weeks ago. Since the game has already achieved acclaim, I looked forward to playing it on the new platform. Although its graphics and unique interface look great on a larger screen, ultimately, the game doesn't soar without touch screen controls.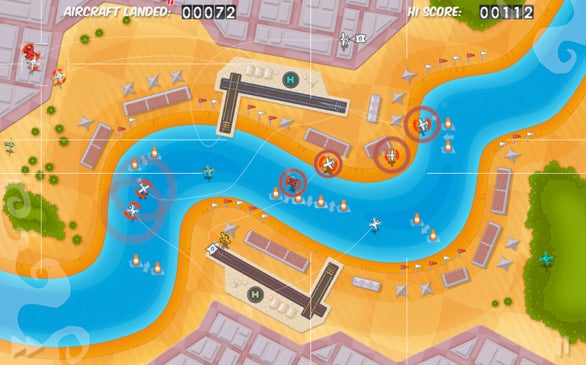 In Flight Control, players direct air traffic in a busy airport, trying to land a variety of planes and helicopters safely. You land the aircraft by drawing a path from the plane to its color-coordinated runway. When the incoming traffic becomes denser, it can be hard to manage upwards of twenty crafts without crashing any of them (which results in game over). Levels range in difficulty and higher levels throw more planes your way, much faster. There are also various obstacles such as changing winds to avoid. Having a finely tuned sense of multitasking is the key to success in Flight Control HD.
Playing Flight Control on a Mac is something of a mixed bag. The game looks great on a larger screen: all the bright graphics and fine lines of the flight paths are much more clearly defined than on the iPad or iPhone. From a strategic perspective, it feels easier to manage multiple aircrafts on a larger screen. However, the most important part of Flight Control HD is careful and precise maneuvering of the planes, and using a mouse doesn't make for the most accurate of flight patterns. With the iOS devices, you use your finger to control the routes of airplanes, but on a Mac, you use a mouse or touchpad. Sadly, even the touchpad mode doesn't compare to using the touchpad precision of the iPhone or iPad.
Another downside of the Mac version of Flight Control HD is the lack of multiplayer. The iPad version offers both 3D levels and multiplayer maps, but for the Mac version, these features still aren't available (though multiplayer has been promised by Firemint). Overall, the essence of the games is more or less identical, save that one of the iPad's nine levels is available in 3D and there is a Steam-exclusive obstacle course level.
Flight Control HD is likely the first of many iOS games to make the leap to the Mac platform thanks to the Mac App Store and Steam. While Flight Control's translation is a middling success, it's sure to pick up more than a few new fans on your desktop.
[Stephanie Kent is an editorial intern for Macworld.]