Amazon has posted a major update to its free Kindle app for the iPad and iPhone. The version 2.5 update adds the ability to take advantage of iOS 4's multitasking abilities, adds support for millions of free books from various Internet sources, and adds a few minor improvements as well.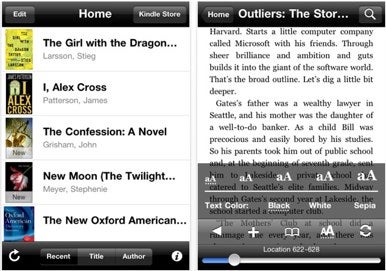 Perhaps the most notable addition in the update is the support for side-loading of content into the Kindle app. You can now add compatible files into the Kindle library from Mail attachments or other apps that support the iOS feature that allows you to open files in other apps. In addition, you can now drag compatible files to the Kindle app via iTunes, when your iOS device is connected to a Mac or PC, by clicking on the Apps tab, scrolling down to the list of apps with file-transfer support, clicking on the Kindle app, and then dragging files into the window to the right.
In terms of file compatibility, it appears that the Kindle app's support matches that of the Kindle hardware itself: it supports the Mobipocket format (files ending in .mobi and some files ending in .prc), but not the more common epub format. This feature means that you can now download files from Project Gutenberg, Internet Archive, and other online sources, and copy them to the Kindle app on your iOS device.
One of the less-known features of iOS 4's multitasking is the ability for apps to continue downloading even after they've been closed. According to Amazon, Kindle 2.5 will finish downloading your books even if you switch to a different app.
Other minor changes to the app include support for better image zooming and a new book indicator. The app's icon has also been modified to replace the word Amazon with the word Kindle.
The Kindle app lets iOS users read Kindle books and shop at the Kindle Store, which contains over 775,000 titles. The app also includes a built-in dictionary, search features, and customizable background color and font size. Kindle requires iOS 3.0 or later.