Curious to see how Verizon and AT&T stack up against Sprint? Check out Macworld's updated plan comparison.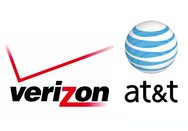 Editor's Note: With the Verizon iPhone 4 now available for pre-order, we've updated our comparison to take into account Verizon's officially announced data plan.-2/3/11
Many of you probably consider an Apple-Verizon deal the second coming of the iPhone. Perhaps you've suffered on AT&T since June 29, 2007, or maybe you've been biding your time with that dilapidated Motorola RAZR, waiting for the day the iPhone was to be liberated. Well, that day has come, so we did your Verizon iPhone homework for you to see how the carrier compares against AT&T, besides offering a potentially more reliable network.
I'll break down the carriers's voice, SMS, and data plans separately, since there's a lot to digest here. As the carriers offer so many voice plans in both individual and family flavors, I'm only covering the first three of each, in order to keep things simple. Besides, if you need more than 1500-2000 minutes, you're probably used to doing some extra homework anyway.
Voice plans
The carriers are neck and neck when it comes to their introductory voice plans for individuals, starting with 450 minutes at $40 per month and pacing each other up through the "unlimited" tier, which you can see below.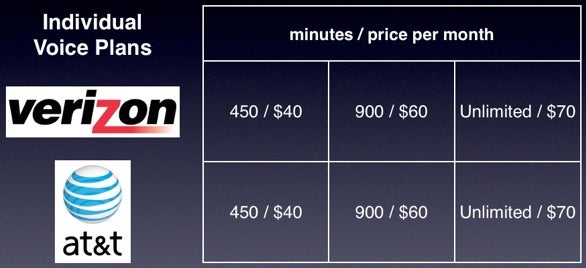 Family plans are where things get more interesting. Even though Verizon is the nation's largest network by sheer subscriber numbers and it offers the same "call anyone else on our network for free" feature, the abundance of minutes on its voice plans here seem to assume that families are frequently going to call non-Verizon customers.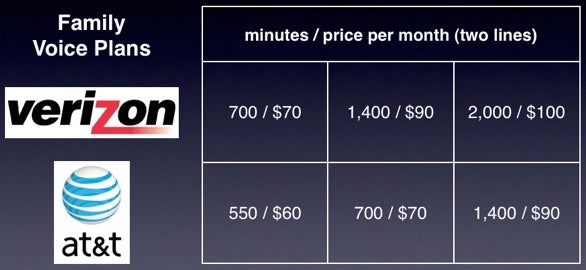 AT&T's family plans start at 550 minutes for $60 per month, but Verizon's begin with 700 minutes for $70, and head ever more upwards from there. Keep in mind, these plans include the minimum two lines to qualify as family plans, and both carriers allow up to five lines on a family account.
Text messaging plans
Verizon and AT&T differ on SMS and data plans as well, and AT&T changed its plans after Verizon announced it was getting the iPhone. Both carriers used to start at $5 per month, and at that price, Verizon one-upped AT&T by offering 50 more messages.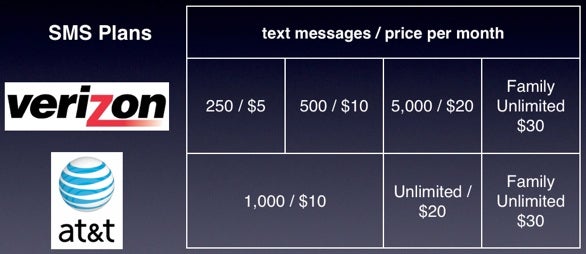 But AT&T scrapped its two introductory SMS plans ($5 for 200 and $15 for 1,500) and now starts at a $10 plan for 1,000 messages. That means AT&T's introductory SMS plan is now twice as expensive as Verizon's, but it offers twice as many messages as Verizon's $10 plan. Prices remain neck and neck between the carriers for unlimited messaging on individual and family plans.
It's worth noting that SMS plans are optional, but who buys a smartphone these days and doesn't use text messaging? It's not like you're actually trying to make phone calls, right? Still, if you're not a heavy texter, Verizon edges neckout AT&T on SMS plans. But if you do tend to text more than you call, and you fall somewhere between 200 and 1,000 on the SMS scale, AT&T offers a better value.
Data plans
Data plans, on the other hand, are required for smartphones by both carriers. Unlike text messages or voice minutes, neither Verizon nor AT&T offer bundles for data; each phone has to have its own data plan. While Verizon requires an unlimited data plan for iPhone 4 owners, it has said that the plan will be available for a limited time only. AT&T, for its part, dropped its unlimited smartphone data plan in June last year in favor of two tiered options.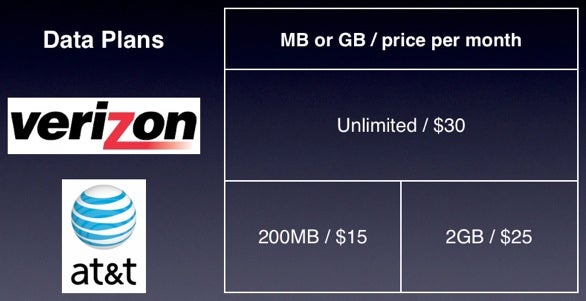 It's also worth noting that Verizon announced its version of the iPhone will offer the carrier's increasingly popular mobile hotspot feature, which lets smartphone users share their device's 3G network connection with up to five devices via Wi-Fi. Adding the hotspot capability costs another $20 per month and comes with a 2GB pool of data for connected devices.
AT&T, for its part, currently allows tethering to one computer—not, for example, an iPad—via USB or Bluetooth, for which it also charges an additional $20 per month. AT&T has said it will be replacing tethering with its own mobile hotspot feature in mid-February—and bundling an additional 2GB for connected devices—but it did not give a specific date for when the iPhone would get this ability.
Coverage
Verizon claims that it "covers approximately 290 million people," while AT&T boasts that it covers "97 percent of Americans." You can look at Verizon's interactive coverage map as well as AT&T's map, but since Verizon is the country's largest network and AT&T is a close second, it's going to come down to your personal experience. This is one place we can only do so much of the homework for you; you might need to do a little legwork to make sure Verizon works where you need it.
Verizon or AT&T may show your neighborhood or city blanketed, but it's still possible you won't be able to get a signal in places that are important to you, like your basement or your office downtown. PCWorld's second 3G wireless performance test, performed around the U.S. last February, should be useful, especially if you live near any of the major metropolitan areas included in the review. But I encourage you to talk to some Verizon- or AT&T-toting friends in your area before jumping into a contract for the long haul. Or, alternatively, you could do your own personal wireless performance test by signing up for an iPhone and running around to all the places you want to check out within Verizon or AT&T's 30-day return policies.
Closing thoughts
The minimum cost for both Verizon and AT&T have shifted since Verizon announced it was getting the iPhone. AT&T dropped its cheapest SMS plan, but Verizon dropped its cheaper data plan and now only offers an unlimited plan that costs twice as much as AT&T's introductory data plan.
In short: the base price to get into an individual Verizon plan with minimum voice, SMS, and data is now $75, while AT&T's base package plan is cheaper at $65. You get the same amount of minutes between the carriers, a less restrictive data plan on Verizon, but far more text messages on AT&T if you don't need the unlimited plan.
Things get more interesting once you get into the family plans, as Verizon offers more minutes than AT&T, but charges $10 to $20 more, depending on the voice package. Still, if you've been suffering dropped calls on AT&T or simply prefer Verizon, that may be an insignificant price to pay for what the carrier boasts is a more reliable network.
Updated 1/11/11 at 11:12am PT with a new chart to reflect that Verizon offers the same unlimited family text messaging plan for $30 that AT&T does.
Updated 2/3/11 at 2:08pm PT with a new chart and details in the SMS section to reflect AT&T's recent changes.
iPhone 4 32GB Black (CDMA, Verizon)
Price When Reviewed:
$549
iPhone 4 16GB Black (CDMA, Verizon)
Price When Reviewed:
$499