iPhone users in the U.S. will soon have a choice of carrier for Apple's smartphone. Verizon announced Tuesday that it will begin providing wireless service for the iPhone 4 in early February.
"Two industry innovators are coming together," Verizon CEO Lowell McAdam told reporters at a New York press event announcing the Verizon-Apple deal.
Since its 2007 debut, the iPhone has used AT&T as its sole service provider in the U.S. AT&T will continue to provide wireless service for the iPhone, though the carrier's exclusive relationship with Apple comes to an end with Tuesday's announcement.
CDMA, not LTE
The iPhone 4 available through Verizon will be a CDMA model, which allows it to work on that carrier's network. (It's the same standard used by Sprint.) iPhones available through AT&T use the GSM standard (as does T-Mobile). Existing iPhone customers who want to switch from AT&T to Verizon will need to buy a new phone in addition to changing their wireless carrier.
A CDMA iPhone will mean some compromises for users—most notably, the inability of CDMA-based technologies to simultaneously support voice and data connections. That's the same limitation that faced users of the original iPhone connecting to AT&T's EDGE network. CDMA is also used primarily in North America and a few other countries, meaning the Verizon iPhone may not be an attractive option for globe-trotting smartphone users.
Verizon is shifting its efforts toward the Long Term Evolution, or LTE, standard for its 4G network, stoking some speculation that an LTE-ready iPhone might have made its debut Tuesday. However, Apple chief operating officer Tim Cook told reporters at Tuesday's press event that first-generation LTE chipsets force compromises his company didn't want to make. With Verizon customers demanding an iPhone, Cook added, offering a CDMA model can meet that pent-up demand.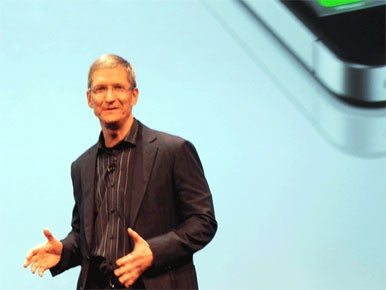 "We wanted to provide people with that choice now," Cook said.
It's easy to understand Apple's motivation for branching out to a new carrier. While the iPhone has racked up phenomenal sales—Apple sold a little less than 40 million smartphones during its 2010 fiscal year—Verizon offers the company a new source for customers. During Tuesday's press event, Cook spoke repeatedly of Verizon's 93 million customers in the U.S. Apple doubtlessly figures that more than a few of those customers have held off on buying an iPhone because it was only available through AT&T.
A CDMA phone might also allow Apple to take the iPhone to other carriers beyond Verizon. Cook told reporters Tuesday that Apple's deal with Verizon was a multi-year agreement, but not an exclusive one.
Other than CDMA, there's another difference between the iPhones offered by AT&T and Verizon. The Verizon iPhone will also feature the network's 3G Mobile Hotspot app pre-installed, allowing customers to share the phone's 3G network connection with up to five Wi-Fi devices. AT&T charges iPhone users $20 a month to tether their iPhone to a laptop or other device. Verizon didn't say whether there would be an extra cost associated with the functionality.
As for other apps, Verizon says in an iPhone FAQ that the VZ Navigator and V Cast Media Manager will be "available in the market"—presumably, through the App Store. Current iPhone customers who switch over to Verizon's iPhone will be able to transfer apps they've already bought, according to Verizon's FAQ.
Pricing and availability
Pricing starts at $200 for a 16GB iPhone 4 and $300 for a 32GB model; a two-year contract with Verizon will be required. Verizon says iPhone customers will need choose one of its current Nationwide Talk plans—individual plans start at $40 a month for 450 minutes and go up to $70 for unlimited talk time. A data package is also required, though Verizon has yet to announce pricing for iPhone customers.
The specifications of Verizon's version of the phone appear to be similar to the original iPhone 4 that starting shipping in June last year. It comes with a 3.5-inch Retina screen that displays images at a 960-by-640 resolution. It will include dual cameras so that users can video conference with others using Apple's FaceTime application. However, some minor changes to the position of switches means that the Verizon iPhone won't fit many existing iPhone 4 cases.
Existing Verizon customers will get the opportunity to place pre-orders for the iPhone on February 3. On February 10, Verizon will make the iPhone available for all users.
Verizon's McAdam says the partnership with Apple has been in the works since 2008 when the two companies first began talking about a CDMA iPhone. Verizon and Apple have already teamed up to sell the Wi-Fi version of Apple's iPad.
"Our strategic relationship with Apple has developed over the past two years," McAdam said.
Potential impact
The new iPhone is likely to boost sales of phones for Verizon, but not exclusively from the new iPhone, said Dan Hays, director of the telecommunications practice at PRTM. He's skeptical of other analyst estimates that predict sales of 9 million to 13 million iPhones for Verizon in 2011. "While the launch of the Apple iPhone on Verizon's CDMA network marks a turning point for the U.S. wireless market and shifts the competitive landscape for high-end wireless subscribers, we believe that current estimates of its potential sales are overblown and fail to contemplate the likely benefits to Verizon's other smartphone devices," he said.
The Verizon iPhone may entice some high-end subscribers from other operators to switch to Verizon, convert a small number of existing Verizon customers and indirectly spur sales of other devices on Verizon's LTE network, he said. But that will likely amount to 5 million to 7 million Verizon iPhones this year, he said, slowed by the high cost that customers will be required to pay to break an existing contract to switch to the Verizon iPhone.
"The big question is, is Verizon Wireless ready for the mad Apple rush that is coming? They say yes, but then again that is what AT&T always said too. We'll just have to wait and see," said analyst Jeff Kagan.
With the iPhone on two U.S. networks, the experience could improve for all end users, he said. "It could take the pressure off AT&T and if Verizon is ready then suddenly we could see an immediate improvement in service," he said.
Agam Shah, Nancy Gohring, and Grant Gross of IDG News Service contributed to this report.
Updated at 9:25 a.m. PT to include more information throughout the article. Updated at 11:10 a.m. PT to include more phone details analyst comments collected by IDG News Service.
iPhone 4 16GB Black (CDMA, Verizon)
Price When Reviewed:
$499
iPhone 4 32GB Black (CDMA, Verizon)
Price When Reviewed:
$549