The holiday shopping season is behind us, but there are still plenty of bargains to be found by the crafty shopper. Amazon Gold Box and Lightning Deals are two solid resources for finding great deals on a wide variety of products, and with Amazon's newly released Amazon Deals app, iOS users can keep up to date on the latest offerings wherever they roam.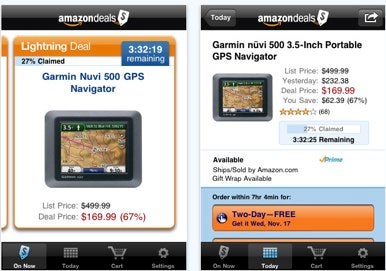 The Amazon Deals app lets you check the availability of current offers, schedule reminders, and purchase Lightning Deals and Gold Box Deals of the Day. Lightning Deals offers select items at a significant discount for a short period of time and in limited quantity, while the Gold Box Deal of the Day is an item that remains discounted for an entire day.
When you've found a deal you like, you can purchase the discounted item through Amazon's secure mobile shopping site directly from the app. You can also view a calendar of the day's deal offers and schedule alarms to remind you of individual deals. Furthermore, you can set up push notifications to alert you about future deals in specific categories, and share any bargains you've found via e-mail, SMS, Facebook, or Twitter.
Amazon Deals is a free app and runs on iOS 3.1.3 or later.