Has the flame fizzled out of your relationship with AT&T? Was it originally love at first sight, but now you've caught yourself eyeing that new iPhone Verizon just announced? Don't worry, our love affairs with gadgets and wireless carriers are often fleeting, and the only thing at risk of getting hurt is your wallet. If you're looking to switch from AT&T for Verizon's new iPhone 4, here's how you can do it.
I'll try to answer a few general questions before we get into details. First, you should be able to bring your current phone number to Verizon if you're switching from AT&T. It's the law. You might even be able to bring your home phone number, too.
Also, like all wireless carriers, if you signed a contract to get your phone for cheaper than its full retail price, AT&T charges an early termination fee (ETF) if you want to break that contract early. But whether you're going to cut the AT&T chord or you're a free spirit with no obligations, let's start preparing you for a Verizon iPhone.
Step 1: Find your current contract
Chances are you're still under contract with AT&T. If not, skip right ahead to Step 3. If you do need to look up your existing contract, you can either call AT&T or check your account online.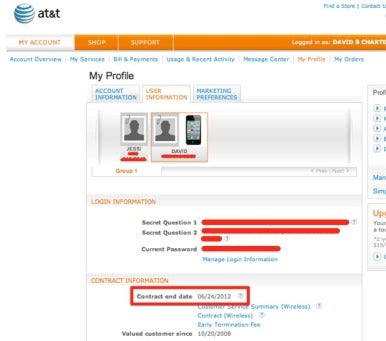 AT&T's site may not be the pinnacle of logical navigation design, but what you need is there. Once signed in, go to Bill & Payments > View Account Profile > User Information, and your contract date is listed on that final tab. Alternatively, as Matthew pointed out in the comments, you could also dial *639# from your current phone, and AT&T will send a text message with your contract's ending date.
Step 2: Figure out your ETF
Most carriers, including AT&T and Verizon, have recently changed their ETF structures. Verizon did it in November 2009, and AT&T followed along in May 2010, which surely had nothing to do with Apple's release of the iPhone 4 the following month. In short:
If you own an iPhone 4 on AT&T, your ETF is $325, minus $10 for every full month you've been on contract
If you bought any phone before June 1, 2010, your ETF is $175, minus $5 for every full month you've been with AT&T
If you bought a feature phone after that June 1 date, your ETF is only $150, minus $4 for each full contract month
For a quick example, let's say you bought your iPhone 4 on launch day, June 24, 2010. By the time Verizon's iPhone 4 will be available for pre-order, you will have paid AT&T for seven full months of service. So: $325 – (7 months * $10) = $255. That's probably too steep a fee to pay for most folks, while others are sure to stop at nothing to get away from AT&T. However, if you're up for dealing with the likes of eBay or Craigslist, selling your AT&T GSM iPhone 4 will surely help offset the cost of that fee.
Step 3: Check your number portability

If the threat of a potential ETF hasn't scared you off (or if you're not under a contract), the next step is to check and make sure your number can be ported to Verizon. Fortunately, the carrier offers a handy dandy tool to check number portability. Now I've only ported my number twice in the last decade of owning cell phones, but Verizon's tool seems to be about as accurate as any other I've seen.
Step 4: Gather documentation
For those switching from AT&T, you'll need a copy of your current bill, your social security number, a driver's license, and a credit card. For new customers without any cell service (how have you lived for the past decade?), you'll need all that, sans the AT&T bill. If you're an existing Verizon customer, you can use this Verizon tool to check your eligibility for any upgrade discounts.
Step 5: Wait
You can't get your hands on a Verizon iPhone 4 until February 3, but even then, it's a pre-order open only to existing Verizon customers (nice gesture from the carrier, eh?). Verizon will make the iPhone 4 available to everyone else both in store and online on February 10. So until then, I guess you can periodically refresh Verizon's new iPhone page or pinch yourself just to make sure this hasn't all been a dream.
Updated at 12:56pm PT with a second method for checking AT&T contract dates.
iPhone 4 32GB Black (CDMA, Verizon)
Price When Reviewed:
$549
iPhone 4 16GB Black (CDMA, Verizon)
Price When Reviewed:
$499