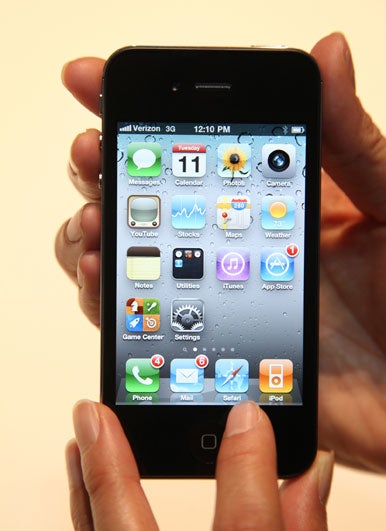 Since its January 2007 unveiling, Apple's lone iPhone partner in the U.S. has been AT&T. But that exclusive arrangement came to an end Tuesday, as Verizon Wireless and Apple announced that they were joining forces to sell a version of the iPhone 4 that's compatible with Verizon's cellular network. Can't tell your GSM from your CDMA? Curious what you'll need to pay to get out of your AT&T contract? Wondering what's new with this Verizon version of the iPhone 4? We've got answers to some of the most common questions.
If I have an iPhone with AT&T, can I now use it on Verizon's network?
No. CDMA (Code Division Multiple Access) is the wireless technology standard used by Verizon and Sprint Nextel in the U.S. AT&T and T-Mobile use GSM (Global System for Mobile Communications) technology, which is also the most common wireless standard internationally. The two technologies are not compatible with each other. As a result, a current AT&T iPhone simply can't connect to Verizon's network. Likewise, the new Verizon iPhone can't connect to AT&T's network. The new Verizon version of the iPhone 4 will also work only on Verizon's 3G network, not on its next-generation 4G LTE (Long Term Evolution) network.
What version of the iPhone is Verizon selling? Are there any hardware differences?
The Verizon iPhone is an iPhone 4, available in the same capacities as the AT&T version of the iPhone. However, there are some hardware differences beyond support for CDMA instead of GSM.
From what we can tell, the Verizon phone uses a slightly different antenna layout. If you recall from the " antennagate" controversy of this past summer, the iPhone's metal edge is composed of three antennas, laid end-to-end. The "joints," if you will, between those sections are in different locations on the Verizon iPhone. Whether or not this affects the performance of the phone—perhaps avoiding the issue where gripping the phone could bridge the antennas—we don't yet know.
What we do know is that along with this change in antenna layout, Apple has moved the phone's Ring/Silent switch slightly, and that shift means that some existing iPhone 4 cases won't work with the Verizon iPhone. Specifically, depending on how a particular case's openings are designed, a case made for the original iPhone 4 may block access to the Ring/Silent switch on the Verizon iPhone. (Similarly, a new case made for the Verizon iPhone may block access to the Ring/Silent switch of an original iPhone.)
One minor hardware difference is that, because the Verizon phone uses CDMA—and, thus, doesn't require a GSM SIM card—the new version has no SIM-card slot on the side. On the other hand, one way in which the Verizon and AT&T iPhones are similar is that neither sports the carrier's logo. This is notable because Verizon has long emblazoned its logo—conspicuously large—on every phone it carries.
What about the elusive white iPhone? Will Verizon have it?
Thar she blows! Actually, Verizon didn't say anything about the white iPhone, which, if you'll recall, Apple announced, delayed, delayed, and delayed again. All the pictures of the Verizon offering that we've seen on the carrier's site so far are of the black iPhone. Our guess is when—if?—the white iPhone is ready for the world it'll roll out (slowly) to all carriers.
Will the Verizon iPhone work where I live?
You can use the Verizon Coverage Locator to help figure that out. You might also want to ask any local friends of yours if they're on Verizon and, if so, how their service is. (Be sure to ask about data coverage and performance, too.)
Will Verizon release an iPhone 5 in the summer alongside AT&T? Should I wait until then to switch?
Although we don't know for sure when Apple will come out with the next iPhone (and when Verizon will get it), it's a safe bet that Apple will stick to its summer release schedule. And that brings up a valid question: do you want to get locked into a new two-year contract on an iPhone 4 six months before a potential upgrade comes out? As with all technology, you can always wait for the next revision of a product, but then you'll wait forever and never get to actually use anything. So it depends on whether you want/need an iPhone now on Verizon, or whether you're happy to wait half a year to see what the Next Big Thing is from the iPhone.
What does it mean that you can use the Verizon iPhone as a hotspot?
Using your iPhone as a personal hotspot means that you can share its mobile (3G) data connection with up to five other devices (such as laptops or iPads) over USB, Wi-Fi, or Bluetooth. That means those other devices can get Internet access in places they might not otherwise have it. It's similar to the Internet Tethering feature available with AT&T on the iPhone 3G, 3GS, and 4 models, although with AT&T you can connect to only one device at a time, and only via USB or Bluetooth.
Will the hotspot feature cost extra?
There's no word yet on whether the hotspot feature will be an additional cost beyond the standard Verizon iPhone data plan (details of which the company also hasn't announced), but on its other smartphones, Verizon charges $20 extra to use the feature. With AT&T iPhones, tethering costs $20 a month in addition to requiring the $25-a-month 2GB DataPlus data plan (although you can activate the tethering feature on a month-to-month basis). One difference between the carriers is that with AT&T, your tethering data is taken from your monthly 2GB data plan; Verizon's hotspot feature—at least when used with the carrier's existing smartphones—draws from its own, separate pool of data. Another difference is that AT&T's tethering, which is accomplished via USB or Bluetooth, restricts you to connecting a single device to your phone. And not all devices support tethering—for example, you can't tether an iPad to an iPhone to use the latter's 3G connection.
Are there any Verizon-specific apps installed?
According to Apple's Phil Schiller, no—which, as with the Verizon's conspicuous lack of a Verizon logo, is unique among the carrier's smartphone offerings. A Verizon FAQ says that apps such as VZ Navigator and V Cast Media Manager will be available on the App Store, but they won't be pre-loaded on the phone.
Will I be able to use FaceTime on Verizon's network?
FaceTime currently relies on a Wi-Fi network, not cellular data connections, so Verizon iPhone 4 owners should be able to use FaceTime just fine. But neither model of iPhone will let currently let you use FaceTime via a 3G connection.
What version of iOS is the Verizon iPhone running?
Engadget reports that it's iOS 4.2.5.
Do Verizon iPhone users get Visual Voicemail?
Yes, iPhone on Verizon uses a similar Visual Voicemail feature. It's unclear if Verizon will charge extra for this feature or what, if any, differences you'll see compared to the AT&T version.
Can I take a call while checking my e-mail? In other words, does the Verizon iPhone support simultaneous voice and data?
During the event, Verizon said the iPhone will offer the "same experience as other CDMA phones" in that regard—which is a passive way of saying that the Verizon iPhone doesn't support simultaneous mobile-network voice and data. (This is a current limitation of CDMA.) You can, however, access data features over Wi-Fi while talking on the phone—assuming, of course, you're within range of a Wi-Fi network.
What happens when a call comes in while I'm using the 3G network?
Phone calls take priority, so if you're surfing the Web (or checking your e-mail or watching a video), that activity will be put on hold when a call comes in. In theory, you should never miss a call because you're doing something on the data network.
Any word on plan pricing?
Verizon hasn't provided details of its data plans, though we took our best shot at guessing. Current smartphone data plans offered by Verizon are 150 MB per month for $15 (a worse deal than AT&T's 200 MB for $15) and unlimited data for $30 (compared to AT&T's 2 GB for $25). Verizon may offer those plans to iPhone users, or it may offer something else. We just won't know until the company makes an announcement. In terms of voice minutes, AT&T allows you to roll over minutes from one month to the next; Verizon doesn't.
I'm a Verizon customer. How can I check to see if I'm eligible to upgrade?
Current Verizon customers should use Apple's tool for checking your price and eligibility for a Verizon iPhone.
Can I use the Verizon iPhone while traveling abroad?
Unfortunately, most of the world outside the U.S. uses GSM for mobile networks, which means Verizon's CDMA iPhone won't work in many other countries. International CDMA coverage is limited to just over 40 countries, most of them in Asia, Central and South America, and the Caribbean.
So is Verizon faster than AT&T? Better? Does it offer more coverage?
Now you've opened a can of worms. All the carriers find different ways to measure speed, reliability, and even the size of their networks, all in order to claim that they're the nation's number one something or other. Last year PCWorld broke down the four majors and reported that AT&T had the fastest overall network, but of course results varied from city to city. Generally AT&T is thought to have a faster network and offers the broadest overall phone coverage, but Verizon's got more 3G coverage. When you're comparing cellular carriers, it gets complicated really fast. And of course, if one company is the clear winner overall, it might still be the clear loser for you if it's got bad coverage where you live, work, and travel.
When will the Verizon iPhone be available, who can buy it, and for how much?
Existing Verizon customers will get the opportunity to place pre-orders online for the iPhone "on or around" February 3 (Verizon's FAQs say that the company will confirm the details a week in advance). On February 10, Verizon will make the iPhone available for all users. Pricing starts at $200 for a 16GB iPhone 4 and $300 for a 32GB model; a two-year contract with Verizon will be required. According to the Verizon's iPhone FAQs, you'll also have the option to purchase iPhone at full retail price, which will not require you to "sign a long-term agreement," although no specific price is listed. Verizon says iPhone customers will need to choose one of its current Nationwide Talk plans—individual plans start at $40 a month for 450 minutes and go up to $70 for unlimited talk time. A data package is also required, though Verizon has yet to announce pricing for iPhone customers.
Where can I get one?
Pre-orders for existing Verizon customers can only be placed online. After that, iPhones will be available at both Apple and Verizon Wireless retail stores (and, presumably, online as well).
What if I want to switch from AT&T?
If your contract with AT&T is up, moving over to Verizon should be relatively painless (other than having to buy a new iPhone, that is). If you're still under contract with AT&T, you'll have to pay any early termination fee (ETF) that could run $250 to $300 if you're an iPhone 4 user to get out of your remaining obligations. We've prepared a story that walks you through the process of switching and can help answer all your questions. In either case, you should be able to move your existing number over without much trouble.
Will the iPhone be sold unlocked (so I can use it with other CDMA carriers)?
Verizon has only announced the subsidized models that require a two-year contract, as well as a no-contract, full-priced iPhone. As with AT&T, we don't expect Verizon to offer an iPhone that you can easily use on another carrier's network.
The Apple tablet, the Beatles on iTunes, an iPhone on Verizon… what do have to look forward to now?
Age, infirmity, and death. Oh, wait! You mean about Apple. Okay, presumably there will be a new iPad this spring (apparently including a model that works on Verizon) and a new iPhone this summer. Also new Macs all year round! It's not like everyone at Apple has just put their feet up and said, "job done." Though perhaps some pundits have done that, given that the Verizon iPhone was the most-flogged rumor of the past few years.
iPhone 4 32GB Black (CDMA, Verizon)
Price When Reviewed:
$549
iPhone 4 16GB Black (CDMA, Verizon)
Price When Reviewed:
$499