Capcom, a leading developer of mobile and console games, recently unveiled its New Year's iOS game lineup. In the next couple of months, the developer plans to release Devil May Cry 4, Resident Evil VS, and Zombie Cafe for the iOS platform. Additionally, the developer has released new updates to its Dead Rising and Capcom Arcade titles.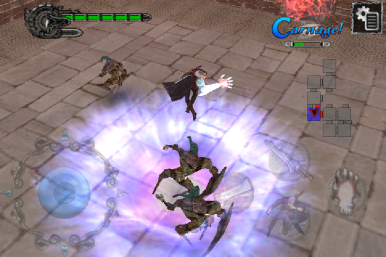 Devil May Cry 4: Refrain
Fans of demon hunting, over-the-top swordplay, and heavy metal soundtracks should look forward to Capcom's release of Devil May Cry 4 for the iPhone. Though based on the fourth game of the action console series, Devil May Cry 4 is actually the first game of the franchise to appear on the iOS. According to Capcom, the game is due out in late January or early February and will cost $7.
The game's premise is unique to the series, as you play as new hero Nero instead of series' icon Dante. Long ago in the supernatural land Fortuna, a dark knight named Sparda rid the land of its evil, dark emperor. This has given rise to a modern religious group, known as the "Order of the Sword," who worships the dark knight Sparda. In the dark knight's memory, the Order protects Fortuna and works to rid it of all evil. Nero, who is a member of the Order's military branch, finds that life gets complicated when witnessing Sparda's son, Dante, brutally murder members of the order. You seek revenge on Dante, and your lust for justice leads you on a journey across ten levels to find him. During your travels, you fight eight game bosses and help collect red orbs crucial upgrading your powers. To make your life easier, you are assisted on your journey by your demonic arm, a powerful Devil Bringing weapon that lets you perform multiple combo attacks.
Our initial look at the game was promising. Devil May Cry has always been known for not only its combo-intensive combat, but its high-end visuals. Both are translated fairly well to the iPhone. The build we saw demonstrated several dark, gray-stoned rooms where puppet-like demons attacked our hero. We were able to dispatch these foes pretty readily thanks to a couple of different button configurations. In a nod to the hardcore crowd, you can switch up the virtual buttons from a three button configuration (with jump, gun/sword, and demon arm) to a more complicated jump, gun, sword, and demon arm arrangement. With both configurations, slicing up opponents into multi-hit combos was a synch. The higher the combo count, the more potent attacks you can unlock.
Our initial concerns had actually little to do with the controls, graphics, or even the aesthetic (as these all seem very true to the series) but the camera work and the level design. The initial levels were boring dungeon rooms, similar to the lazy designs we saw in the first Devil May Cry. The camera work was also spotty—instead of having the camera fixed to Nero's back, it shifted and had difficulty finding enemies to confront. You'd often find Nero running at the camera after finishing a particular combo, giving you moments where you couldn't see the action in front of you.
That said, Devil May Cry 4 looks like an example of Capcom's growing understanding of the mobile market. Everything from the soundtrack to the acrobatic combat to the visuals looks unmistakably like a Devil May Cry game. If the game can offer the same deadly ballet of gunplay and swordplay that defines the Devil May Cry series, then Capcom will be looking at a very popular title.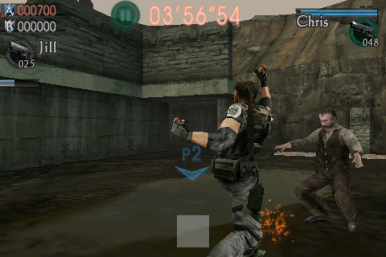 Resident Evil Mercenaries VS
A new take on the classic zombie survival game, Resident Evil, is coming to the iPhone. Resident Evil Mercenaries VS is based on the mercenary modes of its console counterparts, particularly Resident Evil 4 and 5. A multiplayer-only game, you can play as any Resident Evil 5 character and, as that character, compete online against other players to survive a series of undead attacks. You'll work with your fellow players or compete against them in tests of survival and zombie-killing abilities. Like in any Resident Evil game, you'll be able to pick up dropped items, combine them to make new items, and use both melee and gun attacks on the undead. While playing, you will notice that the game's environmental patterns will constantly change to throw you and your opponents off. One minute it will be sunny out, the next it will be cloudy. Capcom estimates that it will only you take you about five minutes to complete online sessions, but game length time can vary according to a variety of settings.
The game uses similar character models as those developed for Resident Evil 4 for the iPhone, but Resident Evil Mercenaries VS uses completely new code and the engine "has been built from scratch" claims Kousei Itou, a Capcom producer. Look for Resident Evil Mercenaries VS on the App Store by the end of February. Its price has yet to be determined.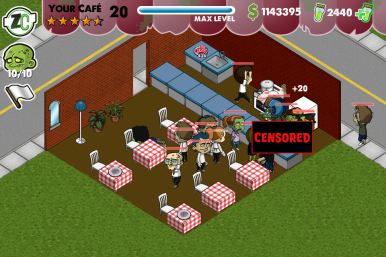 Zombie Café
Are you a business owner that has trouble finding cheap, affordable labor? Well, have you tried zombie employees? Zombie Café lets you be the proprietor of a food service business—the catch of course is that all your employees are not technically alive. The game lets you control zombies, cook food for customers, and decorate your café. If you're a greedy restaurateur, you can direct your zombie workforce to attack other competing cafés' in hopes of stealing their secret recipes. Be sure to properly feed and rest your walking dead, because if your zombies grow restless or hungry, they might just eat some of your customers. Zombie Café is a hybrid of time-management, strategy, and some interior decoration thrown in. You can costumize your Cafe with all kinds of perks and special decorations. You can unlock recipes, infect customers to become your wait staff, and use toxin to both heal your zombies and to speed up certain processes.
The quirky, mirthful game is designed for the iPhone 4's retina display. Capcom plans to release it by the end of January and it will be free to play with the option to purchase certain bonuses in-app.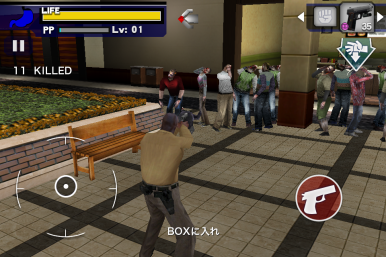 Dead Rising Update
In a December 20th update to Dead Rising for the iPhone, Capcom addressed several gameplay concerns and even added some new content. Both the controls and the camera have been reconfigured to make movement within the game much easier. Dead Rising for the iPhone also adds a second playable character to the game, Brad. Brad was featured as an non-player character in the first edition of the game but players can now play as the mysterious federal agent in the new update. This update is free for purchasers of the $7 game.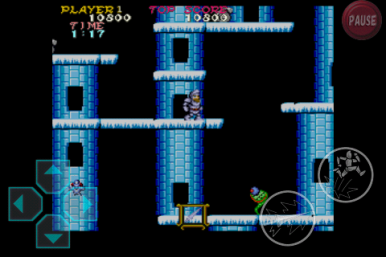 Capcom Arcade: Ghosts n' Goblins
Widely considered by gamers to be one of the most challenging games ever created, Ghosts n' Goblins is now available in the Capcom Arcade. In addition to several other classic games currently available in the app, Ghosts n' Goblins can be purchased for $3 or you can play several times a day for free (thanks to in-app tokens). You play as the gallant Sir Arthur as he fights his way through a monster-infested world trying to save his princess. Like many classic platformers, each level comes with a time limit and variety of powerups. While venturing through graveyards and dungeons, Arthur can gain access to torches, lances, and other weaponry. And like any knight worth his weight, he has a shiny suit of armor to protect him. But one hit from an enemy, and Arthur loses his armor. Another hit, and he's left to fight in his underpants. No wonder the game is so hard.
Look for this classic title on the free-to-download Capcom Arcade app.
[Sam Felsing is a Macworld editorial intern. Chris Holt is a Macworld associate editor.]