Home electronics component manufacturers Denon Electronics and Marantz America have released a firmware update that provides AirPlay music streaming capability on nine of their network-capable audio/video components in their respective lineups.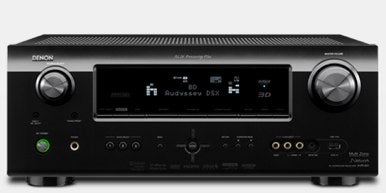 AirPlay, a feature included in Apple's iOS 4.2 and iTunes 10.1 updates, lets you stream music from your Mac or iOS device over your Wi-Fi network to compatible AV receivers and stereo systems. Along with Bowers & Wilken, Denon and Marantz are among the first companies to offer AirPlay-compatible home audio components.
AirPlay capable Denon A/V receivers include the AVR-4311CI ($1,999), AVR-3311CI ($1,199) AVR-991 ($999, pictured), and the AVR-A100 ($2,499), as well as the RCD-N7 Networked CD Receiver ($599).
Marantz's new IP-based products, including the SR7005 A/V Receiver ($1,599), AV7005 A/V Preamplifier ($1,499), NA7004 Network Audio Player ($799) and M-CR603 Networked CD Receiver ($699) are also AirPlay-compatible.
The AirPlay upgrade is available at both the Denon and Marantz websites for $50. Like Dad used to say, nothing in life is free, folks—especially in the high-end AV department.