The iPhone's not the only thing going Verizon, apparently. In an interview with Bloomberg, Verizon CFO Francis Shammo said that a CDMA-compatible iPad would also make its way to the carrier.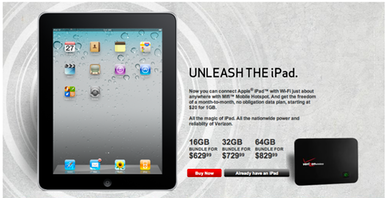 It's not as if the iPad and Verizon are strange bedfellows—the carrier has been selling Apple's tablet since October of last year. But since it couldn't sell the current 3G version of the iPad—which is only compatible with AT&T's network—Verizon instead bundled the Wi-Fi version of the device with its MiFi portable hotspot. The MiFi allows users to get share a 3G connection via Wi-Fi with up to five devices—just like the hotspot functionality that Verizon announced for the iPhone 4 on Tuesday.
Shammo gave no further information as to when a Verizon iPad would arrive, nor what Verizon might charge for service. The company currently offers no-contract 3G data plans for its iPad and MiFi bundle, starting at $20 per month for 1GB of data; AT&T, meanwhile, charges $25 per month for 2GB of data or $15 per month for 250MB.
Apple announced the current versions of iPad in January of last year, but didn't ship them until April, suggesting that a new model might appear sometime this spring.