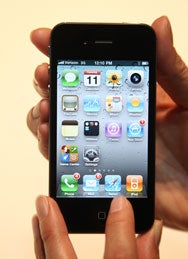 That sound you heard Tuesday was the sound of Verizon customers all over the United States cheering the news that, come February, they can have Apple's iPhone. This might not seem like it has any implications for gamers—other than those who are on Verizon and are looking to get in on iPhone gaming—but the partnership between Apple and the largest U.S. cell carrier will have a discernible effect on the future of the games industry: It'll make mobile gaming bigger.
Verizon currently has 93 million subscribers on its nationwide service. Expect that number to grow as customers from competing services migrate over. If just ten percent of those subscribers buy an iPhone, that would add over 9.3 million potential customers to Apple's App Store. Add that to the reported 73.5 million iPhones that have been sold by the end of the 2010 fiscal year and you have an installed base of more than 80 million, which bests even the Nintendo Wii. (This isn't even including the number of App Store-compatible iPod touches that have been sold either.)
We've already seen the effect that mobile gaming had on the industry: It's helped turn small indie developers into powerful and profitable ventures (Firemint, PopCap); it's established talent away from consoles and PC; and it's convinced big name publishers like Activision and EA to commit resources that might have otherwise gone to conventional game development. A Verizon iPhone will only add fuel to that fire. Millions of new customers will begin browsing the App Store come February and large sums of money will most definitely exchange hands, which in turn will lead to a renewed focus on iOS development.
We're not saying the iPhone will replace consoles or gaming PCs, but this move could help usher in an even greater shift in game development from console to mobile. It also increases Apple's reach in the video games industry and increases the likelihood that we could see our favorite iOS games on Sprint and T-Mobile, one day.
Updated at 10:18 a.m. PT to correct a rounding error.