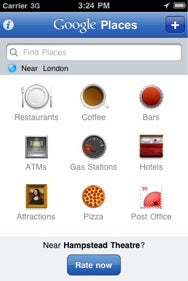 Google continued its recent trend of iOS app releases on Wednesday by introducing Google Places for iPhone and iPod touch.
Google Places is an app for discovering new places around you, rating your experiences, and sharing it all with friends. It looks like Google tore its place discovery feature out of Google Maps and sprinkled in some social elements in order to take on the likes of Yelp, Gowalla, Foursquare, and others.
The app offers nine icon slots of customizable, quick-access search categories such as "restaurants," "coffee," and "attractions." Google urges users to swap in their favorite types of destinations to make it easier to find the right spot while on-the-go.
You can also visit google.com/hotpot in a desktop browser to use some of Google Places's features, such as adding friends and rating places you've been to. This helps Hotpot—Google's name for its new personalized recommendation engine—to provide better results based not just on where you go, but the places your friends visit as well.
After slowing down its iOS releases following the Google Voice app removal episode, Google's gone on a bit of an App Store stocking spree lately. Last November it released its official Google Voice app and updated Google Docs to be editable on iPhone and iPad, then released an official app for Google Latitude, its location-based social network, in December.
Like the rest of Google's consumer products, Google Places is free. It requires an iPhone or iPod touch running iOS 3.0 or later.