At a Glance
Expert's Rating
Our Verdict
[Note: The version of Lyrica currently available on the Mac App Store is 1.1. The review below covers version 2.0, which has been submitted to the Mac App Store and is awaiting approval. Version 2.0 will cost $3, but you can currently purchase version 1.1 for $1 and get the upgrade to version 2.0 for free.]
Back in 2009, I reviewed iClip Lyrics, a program that searched for the lyrics to the currently playing iTunes track and, if it found those lyrics, automatically added them to the track's lyrics field in iTunes. Unfortunately, the developer of iClip Lyrics discontinued the software soon after. I've been keeping an eye out for a similarly simple and inexpensive substitute, and I think I've finally found it in Lyrica ( Mac App Store link).
To use Lyrica, you launch it and keep it running while you're playing music in iTunes. Lyrica searches seven online lyrics databases for the currently playing track and displays those lyrics, if found, in the Lyrica window. (If a track already has lyrics, those show in the window instead.) Using Lyrica's preferences window, you choose the font and font size for this display, and you can choose which of the supported lyrics databases Lyrica searches, although not the order in which they're searched.
You can manually add the found lyrics to the track by pressing the Add Lyrics button, but the easier approach is to take advantage of Lyrica's Active Tagging option, which automatically adds lyrics to tracks as they play. (An option in Lyrica's preferences lets you choose whether to leave a track alone if it already has content in its lyrics field, or if Lyrica should replace existing lyrics.)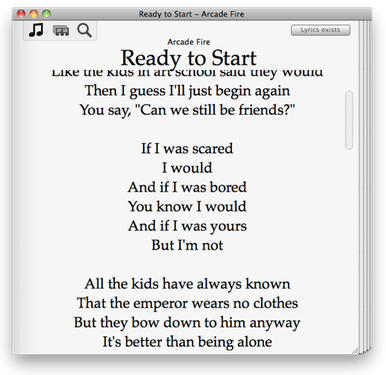 Keep Lyrica running in the background, and the program will gradually fill in the lyrics for your iTunes library as you listen to music. But you can also batch-process tracks using Lyrica's Playlist feature. Click the Playlists button, choose one of your iTunes playlists, and click Tag Songs, and Lyrica quickly searches for lyrics for each track without needing to play it. On my iMac, a playlist of 108 tracks took under under 20 seconds to process, and Lyrica found lyrics for 47 of those tracks. (These were tracks on which other lyrics-fetching programs had previously come up short, so I consider it to be a pretty impressive accomplishment that Lyrica was successful on nearly half.)
On the other hand, I tried using the playlist feature on a playlist with over 9,000 no-lyrics tracks (created with the help of Doug Adams' No Lyrics to Playlist AppleScript), and Lyrica repeatedly quit unexpectedly, so the program does have its limits. Also, if you create a new playlist in iTunes, that playlist won't appear in Lyrica's playlist view until you relaunch Lyrica.
(One interesting feature I didn't have the opportunity to test is Repair Mode, which, when processing tracks, replaces or removes wrong or incomplete lyrics.)
Lyrica includes a couple other features separate from its main track-tagging functions. First, by choosing Translate from the Lyrics menu, you open a second window that shows the current track's lyrics translated (using Google Translate) into English, French, German, Italian, or Spanish. Second, Lyrica lets you find lyrics independent of tracks in iTunes, and even if you know only a verse or fragment: Click the Search icon and type a phrase, and Lyrica searches the same set of databases for lyrics that contain that phrase. A list of matching tracks is displayed on the left; selecting a track shows its lyrics to the right.
Unfortunately, this second feature isn't as useful as it could be. For example, I found that the results often included songs with lyrics that roughly matched my phrase, but omitted popular songs that included the exact phrase or verse. And it would be great if Lyrica would highlight my search phrase within the lyrics for each "matching" song.
My only other complaint is that, unlike iClip Lyrics, Lyrica doesn't let you edit found or existing lyrics; you must view iTunes' lyrics field (in the Info window for the track) and make your edits there. It would be great if you could make your edits, and apply them, right in Lyrica. Still, Lyrica does its job well—it's already added lyrics for hundreds and hundreds of tracks in my iTunes library.
(If you're curious about the differences between Lyrica 1.1 and Lyrica 2.0, the former used a different interface design, including dark text on a dark background and a different window layout. It also didn't offer font choices, used fewer lyrics databases, had fewer settings, and lacked repair mode. So version 2.0 is a significant update.)
Want to stay up to date with the latest Gems? Sign up for the Mac Gems newsletter for a weekly e-mail summary of Gems reviews sent directly to your Inbox. You can also follow Mac Gems on Twitter.