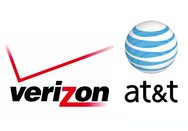 The appearance of an iPhone on Verizon this week was big news, but dig past it and you quickly found that…well, there wasn't that much else to find. We still don't know, for example, what data plans Verizon will offer for the iPhone, or how much they'll cost.
But one additional tidbit did appear: Verizon customers would be able to turn their iPhone into a "personal hotspot." Of course, for many iPhone owners and would-be iPhone owners, this did little more than raise more questions, among them "what exactly is a personal hotspot?" and "will AT&T iPhone users get the same functionality?"
While we'll have to wait for details from Verizion, Apple, and AT&T to answer some of these questions, let's take this opportunity to answer what we can.
What's a hotspot?
In Wi-Fi parlance, a hotspot is a device that offers Internet access through a wireless network. Hotspots have become increasingly popular throughout the world; today, you can find them in all sorts of public places, like coffee shops and libraries. In some cities, local governments have even created their own wireless networks to provide Internet access from public streets and parks.
At its most basic, therefore, a hotspot is nothing more than a device that is capable of connecting the Internet to a local wireless network—a description that easily fits a number of modern smartphones. Most smartphones have both a cellular data connection, usually via a 3G network, as well as the same Wi-Fi functionality as your home computer.
Given the proper hardware and software support, therefore, a cell phone that fits these characteristics can be turned into a "personal mobile hotspot" capable of granting Wi-Fi access to the Internet wherever it can receive a data-capable cellular signal. Essentially, your smartphone serves the same purpose as the cable modem or wireless router you probably have in your home, except instead of having a hardwired connection to the Internet at large, it uses the same 3G cell connection that you use when you're out and about and surfing the Web.
Hotspots and Verizon
Verizon's mobile hotspot feature allows customers to share their 3G connection with up to five other devices simultaneously, all without any need for cables—in fact, once you've set up your phone to act as a hotspot, you can even slip it back into your pocket or bag.
But the feature isn't free: it currently costs most Verizon smartphone customers an additional $20 per month to get the hotspot feature, and that's on top of an existing data plan. Furthermore, Verizon only allows users of its $30 per month unlimited data plan to add the hotspot functionality to their package. But that unlimited data isn't for use with the hotspot: when you enable the feature, you'll instead be beholden to a 2GB data limit for anything using the smartphone's 3G connection—including the smartphone itself. Exceed that 2GB limit and you'll be charged $20 per extra gigabyte.
Verizon didn't specify during its press conference whether or not the existing pricing model and data limits will be extended to the iPhone. And not all smartphones are created equal at Verizon: for example, Palm phones such as the Pixi Plus actually get the mobile hotspot feature thrown in for no additional charge; they also feature a higher data cap of 5GB, with overage charged per MB instead of per GB.
Many providers, including AT&T, also allow the ability to "tether" a laptop or other device to a smartphone for an additional fee. But there are a few differences: for one thing, tethering can only be used with one device at a time; for another, it usually requires a USB cable or a Bluetooth connection which means it won't work with some devices, such as the iPad. AT&T charges $20 per month extra for this feature, though unlike Verizon's hotspot feature, the data you transfer while tethering counts against your smartphone's own data plan.
Pros and Cons
There are plenty of advantages to having your very own personal Internet hotspot. The first, is obviously, that you can connect devices to the Internet wherever you have a cellular signal. In some cases, this is a matter of financial savings as much as it is one of convenience: iPad users who also own a hotspot-capable iPhone, for example, would be able to save cash—both at the point of purchase by going with the Wi-Fi-only version of the iPad, and then again by avoiding the monthly fees associated with a separate cellular data plan.
In addition, there is the convenience of being able to rely on a single device for an increasing number of functions. Today, mobile hotspots are provided by dedicated products, like the MiFi, that have to be lugged around, bringing with them their attendant power cables, battery packs, and so on. Rolling that functionality into a single product will lighten pockets, reduce the amount of paraphernalia that needs to be carried around, and increase convenience.
There are drawbacks, though. From a technical perspective, the proliferation of personal mobile hotspots can lead to an increase in airwave congestion. Wi-Fi operates on radio frequencies that are publicly accessible—something that is not currently a problem as access points are usually far enough apart not to interfere with one another. In a future where everyone has a wireless access point in their pockets, public places that attract large crowds will become literally infested with radio signals vying for the relatively narrow band in which they are legally allowed to operate.
This problem is neither trivial nor far-fetched. Apple itself found this out the hard way at the iPhone 4's introduction, when Steve Jobs had to ask the audience to turn off their Wi-Fi devices because the company's demo devices couldn't cope with the hundreds of networks present.
From a more practical perspective, we can expect the real problems associated with mobile hotspot usage to come from the source of all problems related to the mobile market: the carriers. It's difficult to imagine that the implications of introducing this new capability in the iPhone will escape their attention; as a result, we can expect that, much as they have with tethering, the carriers will demand control over when and how the feature will be enabled and ensure that users pay for the privilege accordingly. They may even block it altogether if they feel that it will eat too much into their revenue streams—obviously, there's more money to be made from having consumers pay separately for each device they want to connect to the Internet.
Until the time when Apple decides to extend hotspots to all iPhone users, of course, its effects on the mobile industry are just speculation—albeit speculation based on plenty of historical precedent.
Hardware and software
The good news for all iPhone users is that current Apple mobile handsets already have all the hardware capabilities they require to become a mobile hotspot. In fact, owners of iPhone models all the way back to the original version introduced by Apple in 2007 can take advantage of this functionality using a downloadable application—as long as they're willing to jailbreak their phone.
Naturally, there are some significant differences between a hotspot running on an iPhone and a traditional one running on dedicated hardware like a wireless router. The first is that the firmware on most smartphones and computers prevent their Wi-Fi radios from working as a true router; instead, they must be operated in "ad-hoc" mode, a special kind of Wi-Fi connection that allows two or more devices to communicate without a central hub, as is usually the case in a traditional network.
When used to provide hotspot functionality, ad-hoc mode provides an alternative to the need for a true router, although at the cost of higher network overhead and battery consumption. Thus, one of the reasons why mobile hotspots are usually limited to a small number of simultaneous clients is that, in ad-hoc mode, network performance decreases very rapidly with the addition of more clients. As another side effect, sharing your cellular connection over Wi-Fi is sure to reduce the battery life of the phone drastically, because both radios must constantly be receiving and transmitting.
Hotspots and the iPhone
So, if all the pieces are already in place, can we expect to see hotspot functionality for all iPhone owners? When asked about the Personal Hotspot feature at the Verizon event this week, Apple senior vice president of worldwide marketing Phil Schiller told Ars Technica, "We did the hotspot feature because it's something Verizon offers, they have a system and specs for it in place. […] We can't say if it will come to AT&T."
As you might expect from Apple, that's neither a "yes" or a "no." Given that the Verizon iPhones at the press conference were reportedly running iOS 4.2.5, some speculated that the feature would be rolled out to all iPhones in the next public release of iOS, 4.3. A beta of the update was released to developers on Wednesday, and some sites have reported that the personal hotspot option replaces the existing tethering feature.
However, even if the functionality is included in a later update, there's no guarantee that other carriers—including AT&T—will allow users to actually take advantage of it. For example, Apple added support for tethering in 2009, when it introduced the 3.0 version of the iPhone software. But it remained unavailable to AT&T users—except via jailbreak or the other occasional unorthodox workaround—until the company revised its data plans more than a year later. An AT&T spokesperson told Engadget on Wednesday that the company was "evaluating the feature," but declined to give a timeframe.
Speculation and Apple go hand in hand, particularly considering that, as usual, the only comment that the company has made on upcoming iOS features is that…it does not comment on upcoming iOS features. Setting the crystal ball aside, however, there is some good news to be had: the hotspot functionality should be well within reach for all iPhone users.
[Macworld.com's Dan Moren contributed to this report.]
Updated at 3:38PT with more pricing information on the hotspot feature for Verizon smartphones.