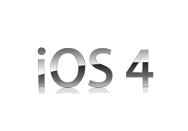 Hot on the heels of Verizon's long-awaited iPhone announcement, Apple on Wednesday released a new beta of iOS to developers. One of the major features included in this iOS 4.3 beta is third-party access to AirPlay, the much-touted media streaming feature that arrived in iOS 4.2. The iOS 4.3 beta covers the iPhone, iPod touch, and iPad; there's also a pre-release version of new software for the second-generation Apple TV.
The iOS 4.2 update introduced AirPlay support on iOS devices, but the feature was then only available to some of Apple's built-in apps, such as Safari and YouTube. In iOS 4.3, developers will be able to harness AirPlay in their own apps, extending the potential of the feature. The pre-release version of the Apple TV software will allow developers to test streaming to Apple's little black box.
Another feature of iOS 4.3 is a set of new multitouch gestures that could significantly enhance interactions on the iPad. While the tablet is capable of accepting input from more than two fingers at a time, Apple's official set of multitouch gestures has so far only employed two fingers for things like pinch-to-zoom on a Web page or twisting to rotate images in the Photos app.
In iOS 4.3, the iPad can use four- and five-finger gestures (and only the iPad appears to get these features, at least in this release). Apple even details specific examples for developers to test, such as pinching out of an app to the Home Screen, swiping up to reveal the multitasking bar (which in iOS 4.2 is only accessible by double-tapping the Home button), and swiping left and right between apps.
And, to the delight of many iPad users, iOS 4.3 appears to add an option for returning the hardware orientation lock that disappeared in iOS 4.2. Screenshots on MacStories.net show a preference that allows users to choose whether to use the switch on the side of the iPad for hardware orientation or the current function, muting.
Also included in this beta is full-screen iAd banners on the iPad and HTTP Live Streaming Statistics for tracking how viewers interact with streaming content. Notably missing, however, is any mention in Apple's documentation of the mobile hotspot feature that Verizon showed off on its version of the iPhone (we explained this feature in our Verizon iPhone FAQ). The OS running on Verizon's device was version 4.2.5, and a rumor quickly began circulating that all iPhones would get the feature in iOS 4.3. But as far as we can tell, it isn't in this release.
The betas are available now to iOS developers in the Apple Developer Center. As the center's name suggests, you'll need a membership to Apple's iOS developer program to download and help test the new OS.