Mortal Kombat 3 has been updated, ported to different consoles, and re-released in some form or fashion over half a dozen times, and for good reason; series creator Ed Boon has called it his favorite of the 2-D Mortal Kombat games, and many consider it to be one of the best entries in the entire franchise. This new iOS remake by EA is an improvement in some ways, but on the whole is not the ultimate way to play Ultimate Mortal Kombat 3.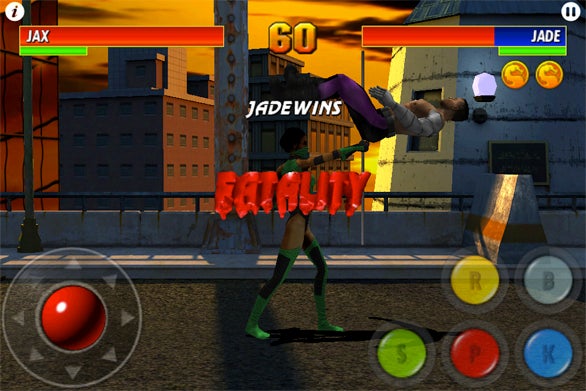 This isn't a direct port of the classic fighting game, and as a result there have been some pretty major improvements, most notably the addition of new 3D graphics for all 13 of the playable characters. There are also global leaderboards for several of the modes (including the survival mode), and EA has added local multiplayer via bluetooth.
You're probably thinking to yourself, "didn't Ultimate MK3 have way more than just 13 playable characters?" Yes, this is indeed a port with only about half of the playable characters that the original game offered, and that's got to be a major bummer for longtime fans of the series. Sure, all the "classic" characters like Liu Kang and Scorpion are there, but if somebody is going to be willing to put up with this game's lackluster touch-screen controls they're probably a big enough MK fan that they'll want to be able to play as all their favorite characters.
That brings me to my next (and biggest) complaint. Ultimate Mortal Kombat's controls are atrocious. If I'm jumping around as Sub-Zero and I want to throw a big pillar of icy doom at somebody, I have about a 25% chance of pulling the move off, even though I know the right button combination that should theoretically make it work. The response time on the stick is bad and close-range punches don't even work half the time. Fighting gmaes are especially dependent on the quality of the control schemes, and Ultimate Mortal Kombat's makes the game almost unplayable.
The biggest of MK fans might be willing to find ways to work around the busted control scheme, but my guess is that the rest of the App Store regulars will not. I give credit to this game's developers for working in the cool new visuals and features that they managed to fit in, but for a $7 "remake" of a 15-year-old game, the bar was too high UMK3 to reach.
[Ryan Rigney is a frequent contributor to Macworld.]