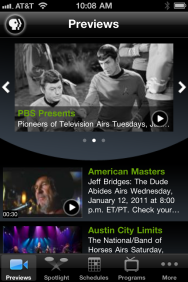 Looking to get your fill of public broadcasting? The free PBS app for iPhone allows you to access full episodes, video segments, and previews of programming from the network. Included are such popular shows as Frontline, Masterpiece, Nova, and the PBS NewsHour.
In addition to video content, you can view the schedule of your local PBS station, set reminders for episodes of your favorite shows so you don't miss them when they air, and bookmark favorite programs. And since no app is complete these days without some sort of social networking integration, you can share videos with friends via Twitter, Facebook, or e-mail. In addition, there's a quick link to PBS content on the iTunes Store, in case you're looking to purchase an episode for posterity.
PBS also released an iPad app in October of last year; that software brings access to a lot of full content that isn't necessarily provided in the iPhone app.
The PBS app is a free download and requires an iPhone or iPod touch running iOS 3.0 or later.