EarthDesk, the software program that replaces your computer's desktop with a real-time satellite-style view of the planet, is now available in the Mac App Store.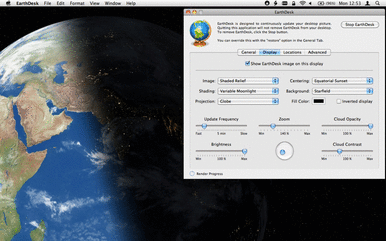 The program from Xeric Design lets users center their view of the Earth from over one of 10,000 cities in the database. Once that choice is in place, the program features a display of the actual cloud cover (updated at three-hour intervals) along with accurate sun, moon, and city lighting depending on the time of day—all updating in the background while users attend their other computer tasks.
Xeric says the latest version of EarthDesk features faster performance and lower processor usage, month-to-month snow and vegetation changes on the map, and higher-resolution cloud data on larger displays. The program also features a "political map" setting that shows boundaries between countries and states.
EarthDesk costs $25, and is compatible with Macs running OS X 10.6.6.