Something about Thursday must inspire templates, as three software developers announced new themes aimed at assorted Apple iApplications.
Take iPresentee, which released Keynote Themes 8.0. The $30 collection includes 80 themes for Apple's Keynote presentation software. That total features 10 new premium themes, with names like Cloverleaf, Crayon, and Paperclips.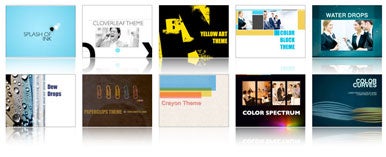 Each theme comes in standard or HD formats, with 18 to 23 different master slide layouts. Keynote Themes 8.0 works with the '08 and '09 versions of iWork and runs on Mac OS X 10.4.3 or later.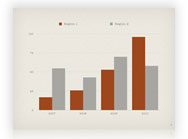 Jumsoft also rolled out new premium themes for Keynote on Thursday—five in total. Jumsoft says its five new themes include up to 50 master slides as well as a mix of bullet text and photo-oriented layouts. The additions of such themes as Highlight, Rapture Light, and Warm & Fuzzy brings Jumsoft's Keynote Themes line to 15 themes.
Jumsoft's Keynote Themes work with iWork '08 and later. Each theme costs $19.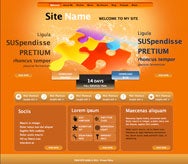 But what of templates for Apple's iWeb web publishing application? iWeb Themes Park has you covered there, releasing five new iWeb themes on Thursday. The new themes—Music Player, Puzzle, Silhouette, Starting Point, and Winter Sports—costs $12 or $13 each. You can buy all 90 of iWeb Themes Park's offerings in the iWeb Themes Box collection for $48. The themes work with any version of iWeb from iLife '08, '09, or '11.