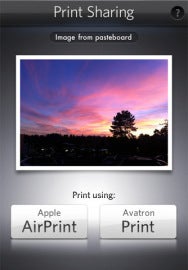 Avatron, purveyor of iOS apps like Air Sharing and Air Display, has taken on the challenge of wireless printing with Print Sharing. The $3 app allows you to print directly from your iPhone, iPad, or iPod touch, without the need for any additional software.
To use the app, you either copy something from another application and then launch Print Sharing, or you can use the Document Sharing feature of iOS to open a file from another app in Print Sharing (say, for example, a PDF in Safari or a Word document attached to a message in Mail).
While Print Sharing can just print documents using Apple's own AirPrint feature, you can also opt to use Avatron Print, which adds a number of advanced options, including page orientation, paper size, and a number of printer-specific options. Print Sharing can work with AirPrint-enabled printers, printers shared via a Mac, and even those attached to Linux machines using CUPS. It does not, however, support Windows printers.
Print Sharing works with any iOS device running iOS 3.2 or later and costs $3.