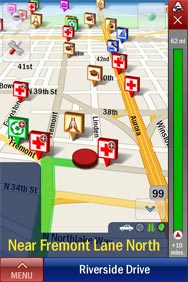 CoPilot Live has a difficult-to-use interface that conforms to few iPhone standards paired with an excellent traffic view in which upcoming traffic is shown as a vertical colored line explaining the slowdowns to come.
The app also was the best of all the GPS apps we tested in its approach to allowing multi-point itineraries, featuring a manager that lets you re-order points on the journey or remove them. CoPilot Live also displays points of interest in a very clear manner, allowing simple selection for navigation or calling.
When we originally reviewed this app in 2009, CoPilot sometimes offered spurious directions, suggesting wrong routes or a diagonal path that didn't exist across many square city blocks. We never spotted those errors when we re-tested the app in later 2010.
The program's clunky interface, and non-iPhone-like approach keeps it from being highly recommended despite its strong features.