Last week, the formidable International Consumer Electronics Show (CES) ravaged the Las Vegas Convention Center, leaving behind a devastating trail of cutting-edge consumer electronics…and a whole lot of new iPhone 4 cases. Fortunately, we're here to pick up the scattered pieces and neatly arrange them for your convenient digestion. As you can see, there's no shortage of new iPhone 4 cases on the market—and this roundup doesn't even take into account the recent flurry of cases for the Verizon iPhone. (Yes, the Verizon iPhone 4 will require its own version of many cases—we'll cover those in the near future.)
BaseOneLabs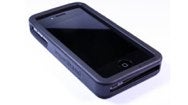 BaseOneLabs's Impactband ($25) is, according to the company, "quite possibly the toughest bumper case available for the iPhone 4." The super-dense, shock-absorbent case features a 360-degree raised lip around the front and back to protect your iPhone from face-down and face-up falls. If you want proof of this case's abilities, check out the company's Website for a video of a guy dropping his Impactband-encased iPhone off a pretty high ledge onto the concrete below.
BioSerie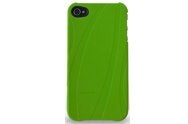 Bioserie's new iPhone 4 case ($35) is, like the rest of the company's cases, made of biodegradable and environmentally friendly materials—the "bioplastic" is based on plant material. Along with providing impact and scratch protection for your phone, the Bioserie case also boasts a specially designed opening for the phone's flash that claims to prevent hues and unwanted coloring during flash photography.
Bluetrek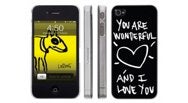 Despite it's rather depressing name, Bluetrek's LostDog series of cases ($27 each) sport some rather uplifting graphics. The 1mm-thin, hardshell cases are built from lightweight, "2H Scratch-resistant," recyclable plastic and feature artwork by French artist Aurele, who's responsible for The LostDog's namesake.
Case-Mate
If your idea of a customized case involves more than a custom printed graphic, Case-Mate's iPhone 4 Stacks Case ($35) could help bring out your inner Warhol. The case, designed by industrial designer Erik Arlen, consists of six modular sections that stack together to create a slim, protective shell for your iPhone. While the top and bottom pieces have to stay in their respective places, the four middle pieces can be arranged to your liking. You can also order additional color sets for additional creative flair.
EFO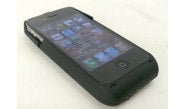 The EFO iPhone 4 Power Pack ($28) snaps onto the back of your iPhone and doubles your battery time while adding only a few millimeters of thickness. It prioritizes power consumption, drawing power from its Lithium-ion battery first, before using your phone's battery, in order to maximize the life of the iPhone's internal battery.
iChair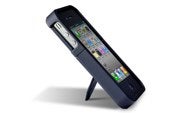 iChair's iPhone 4 Case ($34) is a slim, plastic slider case that sports a kickstand that flips out and props up your iPhone in both portrait and landscape orientation. The case is rubber-coated for an easy grip and velvety feel, while a microfiber lining on the inside keeps your iPhone scratch-free. To help keep your iPhone looking as pretty as its case, the iChair iPhone 4 Case comes with front and back screen-protector films, a dust cloth, and a squeegee for applying the film.
InnoPocket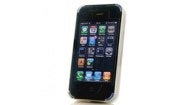 While most cases will protect your iPhone from dust, InnoPocket's Amphibian All Weather Case for iPhone 4 ($30) adds sand and water to the list of conditions it can withstand. The waterproof case boasts a 2-in-1 design, with an inner polycarbonate shell that can be used for standard impact and scratch protection, and a silicon outer "jacket" that adds waterproof protection while still permitting use of your iPhone's touch screen.
Joy Factory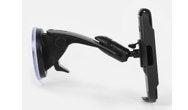 Joy Factory's Valet Suction Mount for iPhone 4 ($50) uses a suction cup to mount itself and your iPhone to your car's windshield, allowing for hands free calling—for the Bluetooth impaired—or easy navigating while on the road. The Suction Mount comes with an iPhone case that doubles as a stand and can quickly snap into the suction mount via Joy Factory's patented Snap-n-Roll design. When mounted, you can easily adjust your viewing angle, or rotate your iPhone for portrait or landscape viewing. You can even remove your iPhone and use the soft inside of the case to clean your screen.
LennTek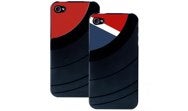 Vinyl is alive and well in the 21st century, and Lenntek is here to prove it with the VintageVinyl for iPhone 4 ($35) case. The high-grade polycarbonate case sports finely machined record grooves on its back, complete with three shiny song dividers that are slightly raised to protect the record grooves. You also get two adhesive "record labels" that are ready to write on. Bring the Noise!
OtterBox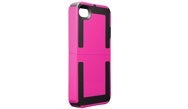 The OtterBox Reflex Series Case ($45) draws its design inspiration from the crumple zone of a car. The case—made of polycarbonate molded with TPE rubber—surrounds your iPhone with a cushion of air for extra impact absorption, and features heavily protected "reflex zones" on each of its corners to protect against drops. The bottom half of the case slides off for easy docking, and the case also comes with a self-adhering clear screen protector.
Nuu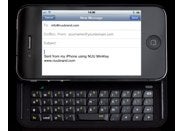 If you love the iPhone's touchscreen, but still have a hankering for physical keys for typing, Nuu's MiniKey ($69) could give you the best of both worlds. Set for release in February, the Minikey is a plastic case that boasts a slide-out, backlit Bluetooth keyboard. Though the iPhone's virtual keyboard works fine for most users, a physical keyboard can increase typing speed and accuracy for some—and at the very least, it can free up your iPhone's display by eliminating the need for an onscreen keyboard. The keyboard also includes navigation keys, a Shift key, a Command key for copy and pasting, and a Function key for typing a range of commonly used symbols. Finally, a toggle button lets you quickly switch between the MiniKey keyboard and the on-screen keyboard. Combined, these features could make typing and editing on an iPhone much more effective for those, say, migrating from a BlackBerry.
Phojojo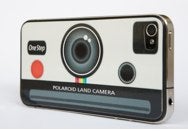 The Photojojo Polaroid iPhone Decal ($6) might not provide any impact protection for your iPhone, but man does it look cool. The retro decal transforms your high tech phone into an old-school, Rainbow OneStep Polaroid Land camera, while also protecting its backside from scratches. The decal is designed to be easy to apply and remove, and it shouldn't leave a sticky residue behind—but really, who would ever want to take one of these off?
Play Hello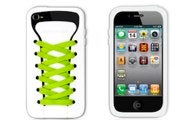 Looking for a case that's "unique, stylish, cool or cute!"? Look no further, because Japan-based Play Hello's iShoes ($28) fits the bill—though it probably won't fit your feet. The zany silicone case mimics the look of a sneaker, shoelaces and all. If you really want to get into iPhone shoe fashion, you can purchase several of these cases with different shoe and lace color, and mix and match them to your heart's content.
Proof Cases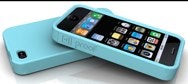 Proof Cases's Cliq case ($30) is a polycarbonate shell with soft texture coating that keeps your iPhone scratch-free while in the case. Proof Cases also sells styluses ($9) that can be used to increase your accuracy on your iPhone's touchscreen.
SlickWraps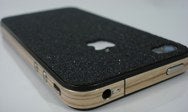 Skateboard enthusiasts, meet the SlickWraps Skateboard Series case ($20). This hard-plastic case is coated with real skateboard Grip tape that, combined with the case's woodgrain vinyl edge wrap, makes your iPhone resemble a miniature skateboard. SlickWraps does advise you, however, not to slide the case around on furniture or other surfaces you don't mind scratching up—skateboard tape isn't exactly known for its softness, after all.
SmallWorks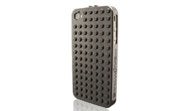 SmallWorks's BrickCase for iPhone 4 ($20) let's you "brick" your iPhone the only way anyone would ever want to: with Legos! When it's not busy protecting your iPhone from life's daily hazards, the Lego-compatible, high-impact plastic case functions as a building platform for your Lego creations. Just be sure to turn your phone off of vibrate mode, lest there be an earthquake in Lego land. (Hat tip: John Gruber)
Speck
Speck has had a busy few weeks, adding two new additions to its popular CandyShell case lineup, as well as a handful of other new designs. The CandyShell View ($40) features a spring-loaded retractable kickstand that pops out for hands-free FaceTime and video viewing. The kickstand is designed to add minimal bulk to the case, and can support viewing in both portrait and landscape modes.
The CandyShell Card ($40) sports a side-loading card slot that lets you keep essential cards with you when you want to leave your wallet at home. The case is designed to keep a low profile, and it prevents your cards from slipping out by maintaining constant soft pressure on them. The card slot is also separated from your iPhone to keep your cards from scratching the back of your iphone, and there's a convenient thumb-release slot for easy removal of your cards.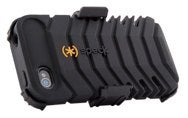 Speck has also released the ToughSkin ($40) and ToughShell ($50) cases, which boast durable plastic and textured rubber designs to provide impact protection and improved grip.
And finally, while the mention of see-through satin might make you think naughty things, Speck's SeeThru SATIN for iPhone 4 ($30) is neither lewd nor lascivious. The suggestively titled polycarbonate case sports an inoffensive minimalist design, while its soft-touch satin coating adds a luxurious in-hand feel.
USBFever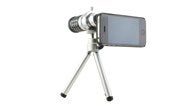 Whoever claims that the iPhone's camera doesn't work with other lenses has clearly never seen USBFever's 12X Telescope with Hard Case ($40). This most uncommon of hardshell cases comes with a detachable 12X telephoto lens that fits over your iPhone's camera. Though the lens's zoom is fixed at 12X, it can be manually focused by turning a ring in front of the scope, and it can also be mounted to a tripod, which ought to yield some of the finest iPhone photos imaginable.
VoBack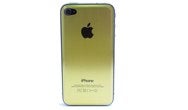 Looking to modify your iPhone's appearance without relying on a clunky case? VoBack's replacement back panels ($24-$29) let you do just that. The company sells a variety of panels that you can install on your own using only a Philps #00 screwdriver (included with panel purchase). Though these panels don't actually protect your iPhone, they could be great for replacing cracked backsides, or just for giving your phone a more personal touch.
Wahoo Fitness
If you like to use high-tech gadgetry to help you stay in shape, the Fiscia Sensor Case ($119) could make for a useful workout mate. The Sensor Case wirelessly connects your iPhone 3G, 3GS, or 4 to compatible fitness-measuring devices such as heart-rate monitors and speed sensors, letting you view real-time activity stats in nearly 40 different fitness apps.
The Sensor Case is water- and shock-resistant, and uses proprietary Fisica technology and the ANT+ protocol—the most widely used wireless standard among fitness sensors—to transmit data between your iPhone and your fitness-measuring device. To accommodate cyclists, the Sensor Case also includes a quick-release attachment for mounting on any road, mountain, or recumbent bike.
XShot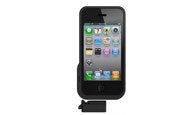 California-based Xshot's XShot iPhone 4 Case ($30) is a hard-plastic case that protects your iPhone from bumps and scratches and features a detachable tripod adapter that lets you mount your iPhone to a standard tripod while in the case. The tripod adapter supports your iPhone in both landscape and portrait mode, and the case even comes with a mini flex tripod—similar to Joby's Gorillamobile—so you can get steadier shots even if you don't own a traditional tripod.