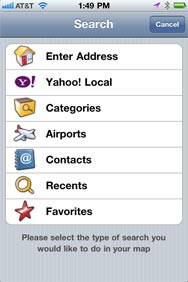 GoKivo presents you with a Google Map screen to select destinations. Tap the search field, and instead of being able to enter a destination, a Search page appears with several options. Selecting a contact or address reveals a map with a pin and a big Go! button. The screen uses the Maps blue-dot-with-a-circle approach, too, until the full GPS lock occurs, which is more distracting than useful. I'd rather wait a few seconds and get the precise location.
But if you search for destinations, the map is populated with pins which you must zoom in on to select. There may be an advantage with familiarity, but it doesn't improve on methods found in other programs.
At the time we published our comparison review of GPS apps, Gokivo didn't support iOS 4, which decreases its utility dramatically.