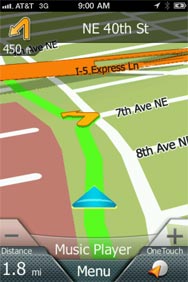 Among all the GPS apps we reviewed, Magellan RoadMate is a solid navigation offering. It has a complete but simple interface for route selection and setting changes, although lacks the smooth appearance and seamless animation of some of its competitors.
However, the app includes integrated traffic with no initial nor recurring fee presented in an easy-to-use fashion. A recent upgrade to the program added iOS 4 support and allows podcast selection within a new music player interface. The app has no outstanding features, but there's also little to complain about.
Note: When you purchase something after clicking links in our articles, we may earn a small commission. Read our affiliate link policy for more details.