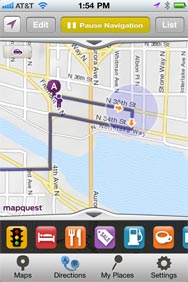 Since we last reviewed MapQuest Navigator in 2009, the app has been thoroughly revised, and no longer resembles its predecessor in any way, including its name—it's now MapQuest 4 Mobile. A clean, smooth, and easy-to-navigate interface is complemented by excellent Contacts address handling. As a result, it was one of the best of the GPS apps we tested in late 2010.
The app puts points of interest (POIs) in the forefront, with a series of icons you can swipe through and select at the bottom any combination of traffic, hotels, stores, gas stations, and more. It's an intuitive way to view POIs, where you can choose one or more categories to view, or wipe them all out. This also avoids navigating down several menus to control which POIs appear, as in other apps.
The app is free and includes traffic at no cost, as well as automatic rerouting based on traffic conditions. Tap the traffic POI icon, and current conditions are overlaid on the map.
Its only flaw is a lack of integrated iPod controls. It also omits a 3D view, showing only a top-down 2D map for navigation.