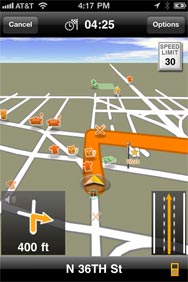 Navigon MobileNavigator has a set of strong features, including an excellent computer-generated text-to-speech voice, the ability to keep a strong fix on the GPS and refresh streets in a noticeably better way than most competitors, and smooth animation in 3D. It's also a universal app, so it works on both iPhone and iPad without needing to buy an iPad-specific version.
The software pops up several unobtrusive but useful navigation aids, including lane diagrams on multi-lane roads, highway signs to make exit choices clearer, and next-next-turn indicators, showing the direction and nature of the turn following the current turn.
But the program suffers from two defects, neither of them showstoppers, but both significant. It recognizes few addresses from the Contacts list, including ones that even other middling performers find just fine. And the 3D display is coarse and sometimes difficult to read or figure out, with POIs overlaid like mad. Other programs remove POIs while a user is driving; you can opt to disable categories through an option nested three deep in menus.
Improving both defects would put MobileNavigator at the top of the pack of the GPS apps we reviewed.