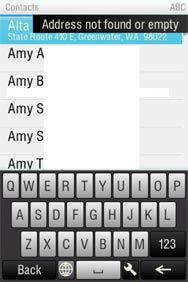 Despite Sygic's focus on developing software for mobile devices, the company's iPhone app is among the most difficult to navigate of the apps we reviewed, eschewing most iPhone OS touch-based gestures or using them inconsistently in different views. Sygic uses its own onscreen keyboard rather than the standard iPhone keyboard, among other oddities. Other apps also use custom keyboards, but not one that is otherwise identical to Apple's, only worse.
The program display house numbers after the street address, like "Anywhere Ln. NW Seattle WA 1234"; the company confirmed this was a design choice, not an error. That might be noted as an interface oddity, except that the software was unable to recognize any addresses that other apps had no trouble with. Maybe better: the software was unable to accept any addresses from the iPhone contacts list; other software had varying levels of success. We reported this with examples to the firm in 2009, and have seen no improvement in the interim. Until that problem is fixed, we must recommend against this app.
Note: When you purchase something after clicking links in our articles, we may earn a small commission. Read our affiliate link policy for more details.