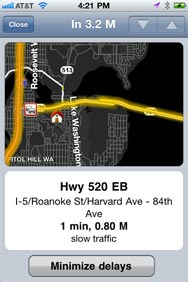 I find myself turning to use TomTom frequently instead of other navigation apps because of its consistent interface, and excellent directions. The addition of traffic as an option placed it higher on our iPhone GPS apps list, along with better address recognition. A traffic bar showing upcoming delays can be displayed (if you pay for the traffic subscription) along the right of the navigation screen with live updates and rerouting help.
The lack of music or podcast selection is an odd omission, and its text-to-speech pronunciation could be better. It has also become a family joke the fact that the TomTom software likes to twirl the display continuously in some cases when it cannot get a GPS fix. This is unacceptable unless TomTom engineers believe that many of its customers routinely vary their route by doing donuts on major highways and arterials.
TomTom is also way too talky. On a recent 20-minute drive that included several miles on I-5, TomTom interrupted a podcast at least 20 times for a several-mile stretch of the highway that involved no turns or other directional switches. Shut up, already!