Many game developers — especially those who've made their way to the mobile market from consoles — have turned to manipulating gamer nostalgia by bringing classic games to the iOS platform. Unfortunately, these ports of classic titles tend to be largely direct and unimaginative. And true to form, the same can be said for the $3 release of Altered Beast, Sega's 1988 side-scrolling, beat-em-up arcade game.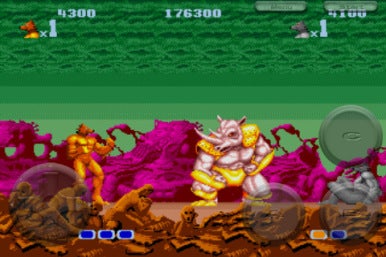 Altered Beast takes place in a Greek mythological world, in which you play a centurion raised from the dead by Zeus in order to save the kidnapped Athena from Hades. The object is to fight the undead and many denizens of the underworld, gathering power-ups (or magical orbs) along the way, until you reach full power and morph into a Werewolf, Tigerman, Dragonman and more. Each super creature has special powers, which are, of course, perfect for defeating the end boss, but you can only reach the end stage and take on the big ole bad guy when you're at full power.
The overlay of controls (and d-pad) are standard for Sega's other games, but they actually work pretty well on Altered Beast, as the screen layout makes it so that your thumbs generally aren't in the way. Sega's emulation is definitely improving, and Altered Beast is a better port than those early ones of Sonic and Golden Axe, which had serious frame rate and control issues. All in all, Altered Beast is pretty smooth, but for those Altered Beast fanboys among us, you'll probably end up wishing that Sega had ported the arcade version of the game rather than the Genesis version.
What's more, most of these arcade games have become artifacts, and the 8-bit gameplay just doesn't pack the same punch – or novelty it once had. In Altered Beast, the human hero you play with until changing into a super beast is basically just a doofus with limited punching and kicking range; he has limited capacity to defend himself against the monsters descending on him. Once you grow larger and begin morphing into a beast, the fun increases, but speed never quite meets that of your attackers — and the boss is really the only challenging part of the game.
So, for nostalgic purposes, feel free to add this one to your phone, but don't expect this game of bizarre Grecian mythology to have aged well.
[Rip Empson is a frequent contributor to Macworld.]