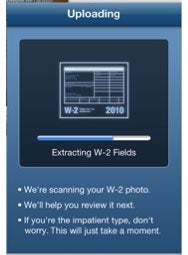 The TurboTax program that lets users file directly from their iPhone has gone nationwide in time for this year's tax season.
TurboTax SnapTax had previously been available only to California residents when it was first introduced a year ago. On Friday, the company expanded coverage to all 50 states. The app lets users take a photo of their W-2 income form with their iPhone's camera, extracts the data, then asks the filer a few more questions before calculating their tax bill. Users need only push a button to file their taxes on the spot. (See the video below for a demonstration.)
The app itself is free, but TurboTax does charge $15 to prepare and file the federal and state tax forms. Families and individuals with complex tax planning requirements might want to avoid the app, however; TurboTax SnapTax is geared toward users who will be filing the relatively simple 1040EZ forms with the government.
The TurboTax SnapTax app is compatible with any device running iOS 4.1 or later, though you'll need an iOS device with a camera to snap that photo of your W-2. An Android version of the app also debuted on Friday.