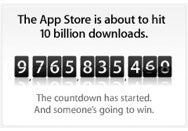 You know that Apple thinks a milestone is significant when it holds a countdown. And the company considers a milestone very significant when there's a giveaway linked to that countdown.
So it is with the App Store, which is fast approaching its 10 billionth download, according to Apple's figures. The company is counting down to the big number and giving away a $10,000 iTunes Gift Card to the lucky customer who nudges the App Store's download count into 11-figure territory. We haven't done any formal calculations, but we reckon that's enough money to never have to pay for anything from the iTunes Store ever again. Or enough for 10 copies of I Am Rich, if that app ever makes it back to the App Store.
Apple reached its 10 billionth song download on the iTunes Store last February after the music store had been open for seven years. By comparison, the App Store was only launched a little more than two years ago, and it's already on the brink of achieving the milestone.
If you'd rather not take your chances by randomly downloading apps, you can still participate in the giveaway by filling out this form. If you happen to submit the form at the exact moment after the penultimate download, you will win the grand prize. You can enter up to 25 times a day, but at the rate that countdown is racing downwards you're far less likely to win than if you had entered the Frito-Lay Sweepstakes a million times.
[via The Loop]