Considering the lengths at which the computer industry has gone to bring photorealistic graphics to mobile devices, it's somewhat ironic that so many game developers are trying hard to imitate the look of yesteryear. Case in point, SRRN Games' deliciously anachronistic Ash: a role-playing game that arches all the way back to 8-bit classics like the Final Fantasy and Zelda series. While fanboys will surely bristle at such a comparison, they need only to play Ash to realize that this epic RPG is worthy of such exalted company.
Ash features a rich and complex storyline and gaming environment that feels a little overwhelming at the beginning, but soon becomes one of the game's strong points; even during the inevitable periods of grinding that are sometimes required to power your characters up enough to fight your way out of a given area, there is enough to see and do that one hardly ever gets bored.
The game's mechanics are simple and effective. Character movement can be accomplished using either a virtual d-pad (which the developer added in a recent update), or by simply swiping a finger in a specific direction. In the turn-based combat mode, enemies can be attacked using a "basic attack" dependent on your currently-equipped weapon, or by using one of several abilities that you gain through experience or by acquiring various special items.
Ash's graphics and music fit its nostalgic theme perfectly—when I first started the game, I felt like someone had magically teleported me all the way back to the time where a SNES was my main source of gaming fun. The only things that could use some work are the combat interface, which is not quite as polished as it should be, and the titles, which are rendered in a hard-to-read script font. The latter are not as insignificant as they sound: in an RPG, titles provide important clues on your current location; therefore, being able to read them easily is quite important.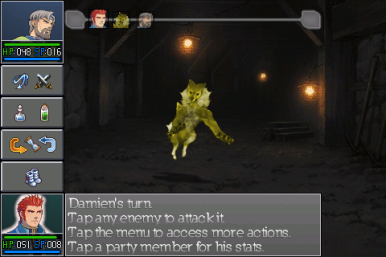 The developers were smart enough to combine some of the best elements that made old RPG titles so popular with modern amenities that fit the iPhone as a platform; these include support for multi-tasking, which means that you can pop in and out of the game—for example, to take a phone call—without having to reload everything. By the same token, the game can be saved anywhere, which makes quick grinding sessions possible whenever it's convenient.
Perfect for both RPG aficionados and casual players, Ash is sure to offer everyone hours of addictive fun without ever becoming too repetitive; both gameplay and storyline are balanced and present a gradually-increasing challenge that keeps players of all skill levels occupied without putting them off early on. If 8-bit nostalgia is up your alley, Ash was made for you.
[Marco Tabini is a frequent contributor to Macworld.]