You've seen time-lapse video footage. You've probably seen High Dynamic Range (HDR) digital photography too, even if you didn't know it. For the past couple of years I've been combining these two bits of digital photo nerdery into one result—HDR time-lapse. Below are some examples of what I've produced and how, all with a digital still camera.
HDR shooting
HDR photography has been all the techie rage for the past few years. This article is really about how to shoot it for time-lapse, so check out a great blog called Stuck In Customs to learn the basics of HDR shooting. This Website has several how-to articles on shooting HDR stills with a digital camera that supports automatic bracketing—the ability to shoot a normal exposure, then also automatically shoot additional frames that are over and underexposed.
By using software such as Bracketeer ($30) or Photomatix Pro ($99), you can combine those bracketed shots into a single image that contains the shadow detail from the overexposed shots and the highlight detail from the underexposed shots all in one frame. This offers more shadow and highlight detail (also known as increased dynamic range) in the final image.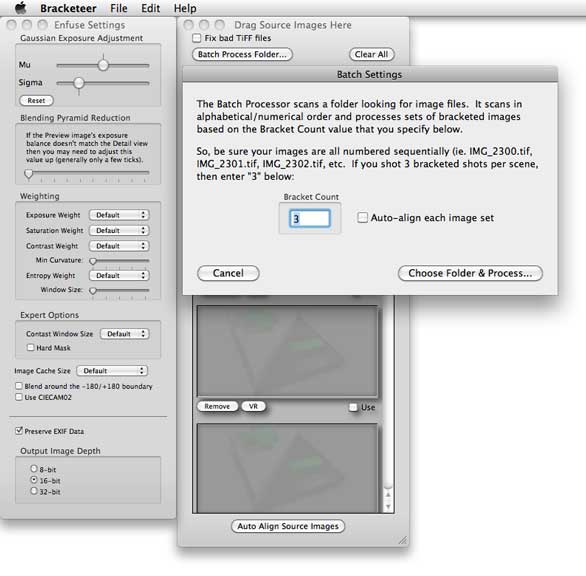 Time-lapse shooting
To shoot time-lapse, you'll need an intervalometer—a device that takes a picture (or a bracketed series) at regular intervals. If your camera doesn't have one built in, there are hardware intervalometers that plug into many cameras (about $40 and up). There's also software for the Mac, such as Canon's EOS Utility that comes free with your camera, that connect to and control the camera via USB. Nikon offers Camera Control Pro 2 for about $150, but it has a 30-day free trial. Breeze Systems offers auto bracketing time-lapse software for many Nikon and Canon DSLRs that lack those features. For extra nerdy points, BlueSLR makes a nifty bluetooth dongle that allows for iPhone remote control, and it plans on adding time-lapse capabilities.
Camera setup
Every camera is a little different, so here are some general steps based on how I set up my Nikon D300S.
1. Set up the composition and focus for the shot.
2. Set the camera to full manual control (white balance, exposure, f-stop, focus).
3. Turn off any image stabilization—you're on a tripod; you don't need it, and it'll introduce its own misalignments.
4. Set baseline exposure, knowing that bracketed shots will gather more highlight and shadow detail.
5. Set the shooting mode to Continuous High, meaning it will rattle off the bracketed shots at its fastest 8 frames per second.
6. Set up the intervalometer appropriately (see below), start it up, and keep out of the shot!
Frame size and format
The camera raw format provides the best looking image, but it takes up the most space and takes the longest to record to the card. JPEG format can be smaller in pixel dimensions as well as file size, fitting more frames onto your image card faster—better for more bracketed shots per set and longer final movies. Unless you're a pro, you'll probably be satisfied with JPEGs—even at roughly 2000 pixels across, that is plenty of resolution to make a decent looking 1920-by-1080 HD video.
How many shots should you bracket and how much exposure variation should you use? Most cameras that bracket only allow for three shots, and most will allow two or perhaps three stops of latitude at most between each shot. Two stops is usually a pretty good spacing if you can only take three shots. More shots means more and finer dynamic range capture.
I make sure to set my shooting interval for longer than it takes to shoot and record each set of bracketed frames to the camera's card. This is important because if the next set of shots begins before the last set is done recording, Things Go Wrong. So use a stopwatch to time how long it takes to shoot and finish recording a bracketed set, and then set the interval to something longer than that. Also, it's essential to set the shots per set to the same number as in the bracketing controls, otherwise you'll end up with a mess of misbracketed, mismatched shots.
How long should you set the interval for? The shorter you set it, the slower the subject (such as the sun or clouds) will move through frame. The longer an interval, the faster the subject will move across the frame, and the shorter your final movie will be.
Making HDR frames: Batch time!
OK, now you've got a big pile of bracketed shots—what do you do with them? Batch 'em! After you separate out your bracketed shots into their own folder on your Mac, both Bracketeer and Photomatix Pro allow batch mode operation. In batch mode, you tell the software how many shots in each bracket, point it to the folder where the frames are, tweak your settings, and the software will crank out HDR merged shots. Slowly. I often run these overnight. Bracketeer is dirt simple, inexpensive, provides satisfactory results, and is a good place to start—but it is very, very slow. Photomatix Pro is more expensive, but it's faster, offers far more options and control, and if tweaked correctly, can generate nicer looking results.
Making a movie
Either way, you now have subfolders with a bunch of still images. There are many ways to turn those stills into a QuickTime movie, but here's two to start.
Easy: In QuickTime Player Pro 7, choose File -> Open Image Sequence. Set a frame rate for playback, and once opened, you can Export As QuickTime Movie in the size and codec you want.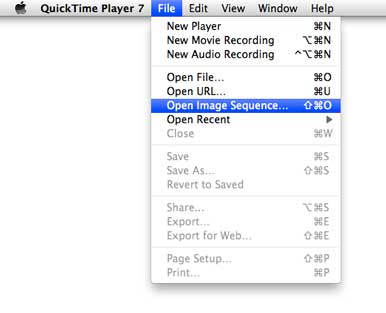 Advanced: Bring the shots into Adobe After Effects as an Image Sequence. Then place the sequence in a 1080p HD timeline to scale, crop, zoom, and/or pan as desired. Then render out to ProRes4444 (lossy video compression format) or whatever format you want for further work in Apple's Final Cut Pro and/or Color, or tool of your choice. If you know how to use Apple's Motion, you can do the same kinds of things with that program.
From there, edit and color correct your creation to your satisfaction. I've been doodling with this technology for a while. To get an idea of what you can do with it, check out my video below.
Mike's 10-25-2010 HDR timelapse reel from Mike Curtis on Vimeo.
[Mike Curtis has been pushing pixels for a living for more than two decades, and currently consults on Final Cut Studio and other post production issues in Santa Monica, California. He writes for Macworld, his own HDforIndies site, and ProVideoCoalition.com .]