On Saturday, the English language version of Asia's largest massively-multiplayer online role-playing game launched on the App Store. Empire Online, developed by Lakoo, is an anime-inspired adventure title that tasks players with building their own handheld kingdom. Free-to-play and swimming in nostalgia for classic RPGs, Empire Online looks ready to conquer the North American market.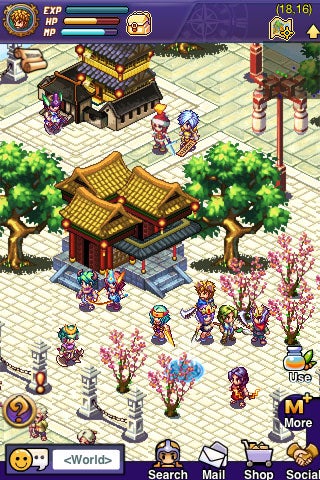 For many, the golden age of role-playing games was the early 90's. Games like Chrono Trigger, The Secret of Mana, and Final Fantasy 3 gave the era a distinctive artistic and gameplay flavor that has influenced developers ever since. With the iPhone and iPod Touch, these distinctive icons of gaming lore have experienced a welcomed revival. Now, developers like Lakoo are proving that iOS gamers don't have to just be satisfied with ports of famous titles—Lakoo is producing some pretty compelling new, original titles to breathe new life into the platform.
According to Lakoo's press materials, Empire Online already has over 5 million users in Asia and Australia. When you first start the game, it's not hard to see why. The graphics, avatars, and artwork are all reminiscent of early SNES RPGs, right down to the instance-focused turn-based combat system.
Like any good role-playing game, Empire Online emphasizes customization. With four races (Eastland, Nordic, Atlantis and Maya), five classes, and hundreds of item to find, the possibilities for creation are substantial. Players can start out as a warrior, kung-fu fighter, wizard, hunter or shaman—each with its own unique set of abilities. Players can gain access to power-ups, special outfits, crafts, pets, and magic items in order to augment their standard attacks. But even though the game seems like it posseses a standard RPG class structure, Lakoo promises players can learn skills across all class types—regardless of their chosen profession.
Despite some retro graphics and cute artwork, Lakoo also promises a rigorous tutorial to ensure players understand the complex systems at work in the game. Players will first learn the essences of battling, quests, chat, equipment and empire-building when first entering the game. While the beginning stages behave similarly for all users, other areas in the game are constantly getting updates. Limited-time and special occurrence events can happen at certain parts of the game, like seeing a Christmas tree and unique holiday-themed mission around the holidays.
The object of the game is to build your own empire and you can both compete against your fellow players (in one vs one, pvp combat) as well as ask for their help. By having players join your party, the group becomes stronger and can take on bosses more easily. But by joining another party (there's a limit of 5 per party) you lose control over your player's movement as a singular leader takes the rains of the group of adventurers.
The game is free-to-play with the possibility of purchasing special bonuses in-app. According to Lakoo, you'll be able to earn certain coins from defeating enemies, but special silver coins can only be purchased through in-app purchase. These coins can go towards leveling up your character character and improving their stats. Kin Ko, CEO of Lakoo, wants to emphasize, however, that players can still play and gain success in the game without using in app-purchases. It may just require a bit more time and patience.
"We can't wait to give English-language players the keys to the kingdom. You won't believe how many MMO elements we can fit on a smartphone," explains Ko. With over 5 million users in the Asian market and a strong RPG market in North America, there's good reason for Lakoo to be excited about the launch of the English-language version of Empire Online. Whether the game can repeat its epic success in the brutal American market, however, remains to be seen.